VIA – 760KFMB


Was it a shark? Dead baby seal found with bite marks in OB
Posted: Sep 01, 2011 2:08 AM EDT Updated: Sep 01, 2011 2:27 AM EDT
OCEAN BEACH (CBS 8/CNS) – Was it a shark? That's the question a group of fishermen are asking after finding a dead baby seal off the Ocean Beach pier with apparent bite marks in it.
"The only thing that would have done that is something really with big teeth," says fisherman Jeff O'Connor. "And we figured it's a shark. And it sure looks like a shark bite."
The discovery comes just hours after a shark sighting prompted lifeguards to close a two-mile
stretch of beach south of Casa Beach in La Jolla.
Fire-Rescue Department spokesman Maurice Luque says three surfers and two boogie boarders spotted a 12-inch dorsal fin around 1:30 p.m. Wednesday near the Children's Pool, where a colony of seals live.
Lifeguards evacuated the area and declared the water off-limits to swimmers for 24 hours for one mile in each direction.
A shark's dorsal fin was also spotted last week at Mission Beach. A lifeguard reported that he believed he saw a great white shark.
For the full story and video go here:
http://www.760kfmb.com/story/15373051/dead-baby-seal-may-be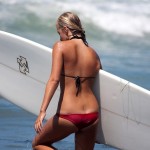 Become A Sponsor!
If you have a product or service that is a good fit for our surf community, we have opportunities for you to sponsor this blog!
Download our media kit now!