VIA – ART INFO
Wipeout!: Denim Company Must Pay Photographer $100,000 For Appropriating Sexy Surfer Pic
NEW YORK— New York photographer Michael Dweck's lush pics of nude women on the beach are suddenly causing quite a stir. Just last month, the fact that Art+Auction magazine featured an ad with Dweck's image of a nude clutching a surfboard caused the publication to be banned by the Texas Department of Criminal Justice. Now, however, Dweck has something to cheer him up: a federal judge has awarded him $100,000 in damages from a jeans company for illegally ripping off another of his surfer images.
The picture in question is "Sonya, Poles, Montauk, NY" (2002), a black-and-white image that shows a carefree nude woman galloping towards the waves, surfboard in hand. In March 2010, Dweck sued designer Diana Amadi and her Malibu Denim Company for appropriating the pic for "advertising, promotion and sales of its jeans." According to the Courthouse News Service, Amadi and Malibu Denim never answered the complaint.
A default judgment was entered against Amadi and Malibu on January 25, and on Monday district judge Richard Berman entered the $100,000 damages award, a sum justified by the way the unauthorized use could harm Dweck's fine art sales. Dweck's "Surf's Up, Montauk, NY" — a similar black-and-white pic featuring two female nudes carrying a surfboard over their heads — sold at Christie's London back in 2009 for £20,000 (about $32,898).
"I remember hearing that part of Malibu's defense was that they felt they could use the Sonya photo since it appeared on the cover my book 'The End, Montauk: NY' which they purchased for $75," Dweck told ARTINFO when asked for comment on the judgment. "News flash: The price of my next book will now be $100,000."
Just how is a photo of a nude supposed to advertise jeans? According to an article about the suit from the New York Post last year, a cropped version of "Sonya, Poles, Montauk, NY" was used on a "hang tag" stapled to Malibu Denim jeans. As the Post colorfully explained, "The allegedly infringing version doesn't show the woman's bouncing breasts, and also covers up the crack of her butt with a red rectangle emblazoned with the words 'Malibu Denim.'"
For the full story and all the "sexy" nude photos, go here:
http://www.artinfo.com/news/story/38488/wipeout-denim-company-must-pay-photographer-100000-for-appropriating-sexy-surfer-pic/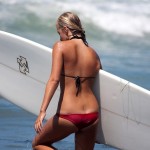 Become A Sponsor!
If you have a product or service that is a good fit for our surf community, we have opportunities for you to sponsor this blog!
Download our media kit now!