VIA – CAPE TIMES – SOUTH AFRICA

Top surfer's family upset over decision to rerun round three heat
August 30 2011 at 12:14pm
Kwanele Butana
THE mother of world surfing sensation Jordy Smith has criticised the decision by the international surfing governing body, Association of Surfing Professionals (ASP), to order a rerun of the Billabong Pro Tahiti round three heat which her injured son had won earlier.
Jordy, who was nursing what appeared to be a rib injury from the earlier run, lost the rerun and bowed out of the tournament on Sunday after losing to fellow South African, Travis Logie.
"Surfing is quite an extreme sport and anything can happen, but I think the (decision for a) rematch was actually wrong," Luellen Smith told the Cape Times yesterday.
Smith said that Jordy, however, accepted the decision as a gesture of good sportsmanship to his "good friend".
"Jordy and Travis are good friends. He wanted to give Travis a fair chance, and that was a good decision," she added.
She said she spoke to Jordy on Sunday night and that he said he was doing well even though he seemed in pain.
"The cartilage between his ribs is torn and the ribs conjoined as a result, but I'm glad that he has no lung punctures as he would not be able to speak," she said.
Smith said Jordy had booked a flight out of Tahiti and back to the US where he stays. ASP Africa Media Manager Paul Botha said the incident was "unfortunate" as the two South African surfers were determined to do well in the heat.
"Going into the heat, Jordy was ranked world number one and Travis was well on his way to make the world's top 32 surfers," he added.
World tour veteran Greg Emslie criticised the ASP for having only one ambulance in attendance at Teahupo'o, where waves were 3m high.
For the full story go here:
http://www.capetimes.co.za/top-surfer-s-family-upset-over-decision-to-rerun-round-three-heat-1.1127738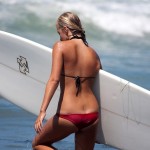 Become A Sponsor!
If you have a product or service that is a good fit for our surf community, we have opportunities for you to sponsor this blog!
Download our media kit now!