VIA – SMH

World-ranked Aussie surfer arrested after booze binge
World-ranked Australian surfer and renowned party boy Matthew "Wilko" Wilkinson has been arrested for public intoxication in California after police allegedly found him lying in a street.
Wilkinson, 23, who declares on his popular blog "I'm superbadass and the women love it", was picked up in the wealthy coastal suburb of Newport Beach, south of Los Angeles.
"He was arrested for essentially being drunk in public," Newport Beach Police Department sergeant Doug Jones told AAP on Saturday.
The arrest was on October 22, but was not made public until Saturday when local newspaper, the Newport Beach Independent, reported the incident.
Officers were called to Balboa Boulevard after receiving a report of a man lying in a street, police said.
Wilkinson, who has based himself in Newport for the US summer, was released from custody when police deemed him sober and it is likely he will not be charged.
The professional surfer, from Copacabana on the NSW Central Coast, holds the number 31 position on the Association of Surfing Professionals rankings.
He is also known for documenting his partying and larrikin antics on his blog www.out2brunch.com and via Twitter and Facebook.
On the day of his arrest he tweeted: "We just bought so much food and the gas bottle is primed all we need is babes! And this will be the best day ever!"
AAP
For the original post go here:
http://m.smh.com.au/world/worldranked-aussie-surfer-arrested-after-booze-binge-20111030-1mq4s.html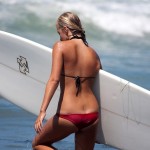 Become A Sponsor!
If you have a product or service that is a good fit for our surf community, we have opportunities for you to sponsor this blog!
Download our media kit now!