50 foot? Must be UK wave size lol…but these are some nice photos!
VIA – DAILY MAIL UK:
Hawaii or Tahiti? Actually, it's Cornwall: The astonishing 50ft waves rolling off the coast of England
By Chris Slack
Last updated at 8:24 PM on 30th October 2011
Crashing down onto the beach with a lone surfer engulfed by the water, these huge waves appear to be more suited to the coasts of Hawaii, Tahiti or Australia.
But these 50ft monsters are striking a coast much closer to home, that of the famous Fistral Beach near Newquay in Cornwall.
The waves struck the Cornish coast earlier today in a phenomenon known as the 'Cribbar', which is named after a reef located at the north end of the beach.

Surf's up! Richard Sills rides the monster wave known as the Cribbar at Fistral Beach in Cornwall
Taking on the challenge: Another surfer rides the waves, which only occur around once every 18 months when conditions involving the Atlantic swells and the onshore winds match up
They occur just once every 18 months when conditions involving the Atlantic swells and the onshore winds combine to cause the perfect surf conditions.
Professional surfer Richard Sills decided to take on the dangerous challenge of surfing the wave, which also has the name 'widow maker'.

The South African, who has won a number of international titles, is pictured riding the breaking wave before emerging from the wall of water still, amazingly, balanced on his board.
The Cribbar is considered by surf experts to be the UK's biggest wave spot and is well renowned for its volatility, ferocity and power. As such they warn that the wave is strictly for the pros.
The wave became the stuff of legend back in 1966 when three visiting Australian surfers stumbled upon the waves.
Ever since experienced surfers from across the globe have come to take on the challenge…
For the full article and more photos go here:
http://www.dailymail.co.uk/news/article-2055393/Hawaii-Tahiti-Actually-Cornwall-The-astonishing-50ft-waves-rolling-south-coast-England.html?ito=feeds-newsxml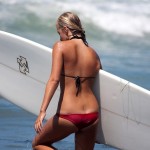 Become A Sponsor!
If you have a product or service that is a good fit for our surf community, we have opportunities for you to sponsor this blog!
Download our media kit now!