VIA – FLORIDA TODAY
World's best paddleboarder gets standing ovation
Candice Appleby provided tips at her appearance. / Lyn Dowling/For FLORIDA TODAY
Written by
Lyn Dowling
For FLORIDA TODAY
COCOA BEACH — You can excuse the world's greatest woman stand-up paddleboarder if she seemed a bit tired.
Having arrived in Orlando from California on a 1 a.m. flight Thursday, Candice Appleby made appearances just a few hours later at the winter Surf Expo at the Orange County Convention Center and then drove to the Space Coast to do a clinic and another appearance for a sponsor.
"Sometimes in order to be a success, you have to lose a little sleep," Appleby said.
Friday, she was in Cocoa Beach with fellow SUP pro Anthony Vela with the intention of spreading it around to at least eight more SUP riders, who attended a clinic at Girard Middleton's SoBe Surf Resort and Training Center on the Banana River.
Appleby has won the Battle of the Paddle, the de facto world championship of SUP, four consecutive times; was the first woman to have beaten the men in a professional SUP contest (in 2008); and is a sufficiently good longboarder to have won the 2011 Science Hawaii Women's Pipeline Pro last April.
So great are the combined reputations of Middleton, a pioneer in the sport, and Appleby-Vela — they are inseparable — that those eight people came from as far as Norway for an event announced only days before it happened.
Appleby and Vela have started a new business, Performance Paddling, which aims to teach their sport to anyone interested, and so an appearance here would have been useful in any case. Add to that the willingness of Hawaii-based Kona Brewing Co. to promote its Koko Brown beer in the area with an athlete it sponsors in SoBe's laid-back, waterfront setting — the ocean is across the street — and the couple and their students were in paddleboard heaven.
"We're blessed to have this here and also that Kona Brewing Co. chose me and my place to sponsor its event," said Middleton, a past winner of the National Kidney Foundation Surf Festival and a competitor on the 2011 Stand Up World Tour.
"People from all over the world train here and stay here, and Candice rides for Kona, so they found me."
For the full story go here:
http://www.floridatoday.com/article/20120114/SPORTS/301140030/World-s-best-paddleboarder-gets-standing-ovation?odyssey=nav|head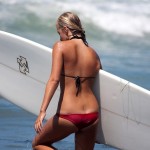 Become A Sponsor!
If you have a product or service that is a good fit for our surf community, we have opportunities for you to sponsor this blog!
Download our media kit now!