VIA – MSNBC
'Titanic'-like scene: Passengers recount panic on cruise ship that ran aground off Italy
Visit msnbc.com for breaking news, world news, and news about the economy
By NBC, msnbc.com staff and news services
NBC's Claudio Lavanga reports.
PORTO SANTO STEFANO, Italy — Survivors from a luxury cruise ship that ran aground and tipped over in shallow waters off the coast of Tuscany on Saturday recounted scenes of chaos, with frightened passengers crawling along upended hallways and some leaping into the sea trying to reach safety.
"Have you seen 'Titanic?' That's exactly what it was," said Valerie Ananias, 31, a schoolteacher from Los Angeles who was traveling with her sister and parents on the first of two cruises around the Mediterranean. They all bore dark red bruises on their knees from the desperate crawl they endured along nearly vertical hallways and stairwells, trying to reach rescue boats.
advertisement
Three bodies were recovered from the sea after the Costa Concordia ran aground off the tiny island of Giglio near the coast of Tuscany late Friday, tearing a 160-foot gash in its hull and sending in a rush of water. Italian news agency ANSA said the dead were two French passengers and a Peruvian crewman.
Up to 70 people were still unaccounted for Saturday among the more than 4,300 passengers and crew who were on board, the Italian coast guard said.
Cmmdr. Cosimo Nicastro, spokesman for the Italian coast guard, told Sky TG24 TV there were no firm indications that anyone was trapped inside the ship. But he noted rescuers carried out an extensive search of the waters near the ship for hours and "we would have seen bodies."
He said it's possible those unaccounted for "might be is in the belly of the ship."
The U.S. Embassy in Rome estimated 100 Americans may have been on board. There were no reports of serious injuries to Americans, based on information provided by local officials.
By Saturday morning, the ship was lying virtually flat off Giglio's coast, its starboard side submerged in the water and the huge gash showing clearly on its upturned hull.
Nicastro said divers will continue to search for survivors for the next two or three days. It's a dangerous operation because the ship could sink another 230 feet, he said.
• Get the latest updates from breakingnews.com
Passengers who escaped complained the crew failed to give instructions on how to evacuate and once the emergency became clear, delayed lowering the lifeboats until the ship was listing too heavily for many of them to be released.
Passengers: 'Unorganized' crew, no evacuation drills
Melissa Goduti, 28, of Wallingford, Connecticut, who had set out on the cruise of the Mediterranean hours earlier, called the entire trip "unorganized" from the start.
"It was so unorganized. Our evacuation drill was [not] scheduled [until] 5 p.m." said. "We had joked, 'What if something had happened today?'"
"We were crawling up a hallway, in the dark, with only the light from the life vest strobe flashing," said Ananias' mother, Georgia Ananias, 61. "We could hear plates and dishes crashing, people slamming against walls."
She choked up as she recounted the moment when …
For the full article and more photos go here:
http://overheadbin.msnbc.msn.com/_news/2012/01/14/10156346-titanic-like-scene-passengers-recount-panic-on-cruise-ship-that-ran-aground-off-italy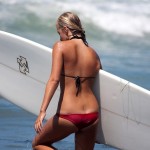 Become A Sponsor!
If you have a product or service that is a good fit for our surf community, we have opportunities for you to sponsor this blog!
Download our media kit now!