And my mom told me surfing was a waste of time lol…
VIA – KSBW


World's Top Surfers Hit New York For $1M Purse

POSTED: 11:35 am PDT August 29, 2011
UPDATED: 12:39 pm PDT August 29, 2011
LONG BEACH, N.Y. — How about the timing? Some of the world's greatest surfers arrived early in New York over the weekend so they could take advantage of an epic swell caused by Hurricane Irene.
The wave shredders were already on their way to Long Beach, N.Y. for a professional surf competition when Hurricane Irene blasted the beach town.
The Quiksilver Pro New York Surf Competition starts Sept. 1 and runs for two weeks. The pros practiced on hurricane churned waves as a warm up before competing for a world-record-setting $1 million purse.
Ten-time ASP Champion Kelly Slater is among the surfers ready to rip for the big prize.
The surf smack down is happening off Long Island's south shore, where waves breaking big enough to challenge the pros can be hit or miss.
"We chose the upcoming weeks to stage the event because it was hurricane season, offering the greatest potential for good surf. So planning for hurricanes was par for the course," Quiksilver's Luke Watson said.
For the full story go here:
http://www.ksbw.com/r/29016781/detail.html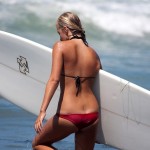 Become A Sponsor!
If you have a product or service that is a good fit for our surf community, we have opportunities for you to sponsor this blog!
Download our media kit now!