Two sharks seen within 15 feet of two surfers off the Manhattan Beach coast around 6:35 p.m. Tuesday prompted a Los Angeles County Sheriff's helicopter crew to use a public address system to alert the surfers, said Sgt. Morrie Zader of the L.A. County Sheriff's Aero Bureau.
Once the two-man crew saw the surfers paddle safely to shore, they left the scene, he said.
"If it's a long shark and they think someone could be imperiled, they will issue notice," Zager said. "We're not trying to excite a panic or anything but I think if you had sharks swimming near you, you'd want to know."
Zager's crew told him the sharks were six feet, using the nearby surfboards in the water as a measuring tool. The crew had "opted to give the shoreline a pass over" between calls in the South Bay, something they occasionally do.
"It was an opportunistic moment," said Zager.
Capt. Kyle Daniels of the Los Angeles County Fire Department Lifeguard Division told Patch the sheriff's announcement "caused alarm with beachgoers" and that lifeguards are conducting precautionary patrols with the Baywatch rescue boat and personal watercraft in the El Porto area in response to the sighting.
He also said rip currents are a "bigger threat" to people in the water than sharks and that the last shark attack in L.A. County coastal waters happened in the early 1900s.
"We're not going to yell 'Fire' in a crowded room,'" he said. "We don't want to cause public alarm or distress. We do enjoy serving the public and providing them with any info we can."
On Monday, lifeguards responded to a shark sighting call around 10:30 a.m. in the same general area. In that instance, the shark was a four- to five-foot mako or great white juvenile, he said.
"It [the shark] is pretty curious," he said, "but we determined it was not a threat to anyone. It was pretty skittish." Juvenile sharks "won't bite anything too hard because they'll lose their teeth," he said, "and they're pretty smart–they don't want to lose their teeth."
While the department has no official policy as to when to clear beachgoers out of the water, Daniels said it would probably take about a 12-foot shark for a lifeguard to do so.
On Monday, a lifeguard paddled alongside the shark, advising swimmers and surfers of its presence if they were close by.
"It's not uncommon to have shark sightings," said Daniels, "especially with a lot more people using the water recreationally." He cites stand up paddleboarding and kayaking as adding to the number of people using the ocean.
"We've never had anything where sharks have been hostile."
Before going in the water, beachgoers should check in at a lifeguard station to find out about rip currents and other conditions, he said. If a shark has been sighted, a lifeguard will "urge extra caution."
"From our point of view, it has not been necessary to clear the water" when a shark has been sighted, he said, noting that lifeguards will always respond to a shark sighting since their goal is to keep the public safe.
"We don't want to go off speculation or uncorroborated reports," Daniels said. "We try to go out and verify."
It's not uncommon for people to mistake dolphins for sharks, he said.
Tuesday night's incident has not prompted the posting of signs or any beach closures, he said. "We don't want to encourage panic or raise great alarm. We've lived peacefully with them [sea creatures] for the last several years."
Daniels said his department was not consulted prior to the sheriff's public announcement from its helicopter P.A. system. and that his department is "working on a protocol and policy" for dealing with shark sightings and other issues related to other agencies "to develop a necessary response plan."
He said San Diego County has formal policies for such interaction. "We try to work closely with them [other public agencies] on any call or public emergency," he said.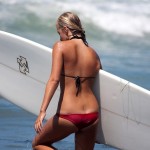 Become A Sponsor!
If you have a product or service that is a good fit for our surf community, we have opportunities for you to sponsor this blog!
Download our media kit now!