VIA – SANTA CRUZ SENTINEL
By Cathy Kelly
Santa Cruz Sentinel
Posted:   03/21/2013 06:43:56 PM PDT
Updated:   03/21/2013 06:43:58 PM PDT
SANTA CRUZ — A 62-year-old Pleasure Point attorney and surfer arrested earlier this week for allegedly vandalizing the vehicle of a standup paddleboarder is being investigated due to suspicions that he vandalized other vehicles, District Attorney Bob Lee said Thursday.
Donald Warren Darst was arrested Monday on suspicion of felony vandalism for allegedly etching the paint of a truck that was parked near 38th Avenue and East Cliff Drive on Saturday. The victim installed a camera on his vehicle and caught images of the vandal, the Santa Cruz County Sheriff's Office said earlier.
Darst was booked into County Jail and released with bail set at $5,000.
Deputies estimated Saturday's damage at $3,000 and said the victim believed Darst targeted his vehicle because he is a standup paddleboarder and Darst was a surfer who did not want the paddleboarder in the water in the popular spot between "The Hook" and "The Point" surf breaks.
Thursday, Lee said the damaged vehicle belongs to Assistant District Attorney Steve Drottar, a paddleboarder, surfer and runner who works in Lee's office.
Drottar's truck was damaged five times during the past year, he said, adding that he believes Darst damaged at least two other vehicles, as well. He said the other alleged incidents include Darst flattening tires on vehicles last spring.
The case will be forwarded to the state Attorney General's Office for prosecution because it would be a conflict for
the county District Attorney to handle it because Drottar works as a prosecutor in the county, Lee said.Lee added that "a Bar card" doesn't necessarily carry a lot of maturity. "And what people don't realize is that a lot of paddleboarders are surfers." It was unclear Thursday whether Darst had used a key or other instrument, or what exactly he was caught on tape doing. Sheriff's Deputy April Skalland said the damage consisted of 6- to 8-inch scratches along one side of the vehicle.
Darst's phone number is not listed. Email messages sent this week to an address listed on the State Bar of California website were not answered.
The website states Darst is an active member without disciplinary problems and was first admitted to the bar in 1980. It states he voluntarily became inactive in 2000 and became a member again in 2002 and that he attended UC Berkeley and Armstrong College Law School in Berkeley. It's unclear what type of law he practices.
Follow Sentinel reporter Cathy Kelly on Twitter at Twitter.com/cathykelly9
Original story:
http://www.mercurynews.com/central-coast/ci_22844288/santa-cruz-surfer-attorney-suspected-additional-acts-vandalism?source=autofeed&fb_ref=fbrecbox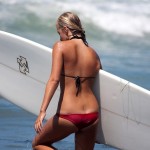 Become A Sponsor!
If you have a product or service that is a good fit for our surf community, we have opportunities for you to sponsor this blog!
Download our media kit now!