ARGGGHHH!!!
VIA – HUFF POST
The Huffington Post  |  By Gabriela Aoun   |  Posted: 08/10/13 EDT  |  Updated: 08/13/13 EDT
Waves for days. Trash for eternity. That's what photographer Zak Noyle discovered on a recent trip to Java, Indonesia. The waves of Java, always known for being pristine and barreling, were now rolling swells of disgusting trash and debris.
Noyle was shooting Indonesian surfer Dede Surinaya in a remote bay when he and Surinaya discovered the water to be covered in garbage, according to GrindTV. The bay was miles from any town, yet strong currents had carried the trash of the world's most populated island, Java, to its once pure waters.
"It was crazy. I kept seeing noodle packets floating next to me," Noyle told GrindTV. "It was very disgusting to be in there; I kept thinking I would see a dead body of some sort for sure."
No matter who is to blame, the effects are felt by those who live in or visit Indonesia. Mark Lukach, a writer for the surf website The Inertia, described his first time visiting the island of Lombok.
"My boyhood fantasy felt disappointingly ruined," he wrote. "I couldn't believe it. Trash in the lineup. And not any lineup. A lineup right out of my imagination – the perfect lineup … spoiled by trash."
Source:
http://www.huffingtonpost.com/2013/08/10/trash-waves-indonesia_n_3736913.html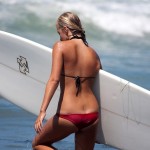 Become A Sponsor!
If you have a product or service that is a good fit for our surf community, we have opportunities for you to sponsor this blog!
Download our media kit now!