Profile on a professional surfer turned poker advocate
Wherever the waves go, there's bound to be a surfer not far behind. In Germany, surfing has become quite a fad; surfers not only frequent the ocean, they even go to Munich to surf in rivers. Many are drawn to the thrill of surfing because surfers get to conquer a force of nature bigger than they are, and the seeming dangers are just part of the fun. Surfing appeals to all age groups and genders, especially to females. In fact, according to Surfpulse.com, women's surfing is the fastest growing sport in the US. One of the most famous names among women surfers is Kristin Wilson.
With a business degree and MBA under her belt, Kristin is not your typical beach bum. Originally interested in gymnastics, she was later introduced to surfing by her brother. In an interview, she claimed that gymnastics provided her the needed flexibility and balance as foundation for her surfing skills. She has been surfing since age 13, and has been competing with local and international surfing competitions. At a young age, she emerged victorious in both the East Coast Surfing Championships as well as the National Championships of the National Scholastic Surfing Association (NSSA). As a young surfing champion at the time, she won the admiration of surfers all over the world, including European surfers from Italy and Germany.
With an excellent start, one would think that Kristin Wilson will make a career out of surfing. Things took a turn when in 2011 she decided to take another path. It was a time when online poker was a booming industry, and some people were making a living by playing the card game online. However, on April 15, 2011, the so-called Black Friday occurred—the US Department of Justice ordered the shutting down of three major online poker sites. This drastically affected the plight of those who rely on poker for their income. This doesn't directly concern poker players who opt for land-based casinos such as Casino Berlin, or those who compete at partypoker.com's World Poker Tour, but certainly this has a huge impact on poker as an industry. This is when Kristin Wilson found her calling—to help the poker players who were deprived of finances when Black Friday happened. She set up an organization called Poker Refugees to support this vision. Poker Refugees aim to help poker players affected by Black Friday to relocate and continue with their passion in playing the card game. This is done by finding them new homes (even in another country), and providing them with opportunities to connect with the right people in order to raise their standard of living.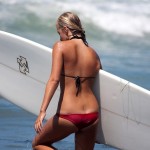 Become A Sponsor!
If you have a product or service that is a good fit for our surf community, we have opportunities for you to sponsor this blog!
Download our media kit now!