VIA = KHON
By Web Staff Updated: Saturday, January 25, 2014, 4:36 pm Published: Friday, January 24, 2014, 9:43 am
Waimea Bay. Courtesy: Terry Reis.
The National Weather Service has issued a high surf warning for north and west facing shores of Niihau, Kauai, Oahu, and Molokai, and for north facing shores of Maui beginning 6:00 a.m. Sunday to 6:00 a.m. Monday.
Surf along north facing shores is expected in the 15 to 20 foot range, building Saturday night to 25 to 30 feet by Sunday.
Surf along west facing shores is expected in 10 to 14 foot range, building to 18 to 22 feet by Sunday.
Impacts: High. Expect ocean water occasionally sweeping across portions of beaches. Very strong breaking waves and strong longshore and rip currents. Breaking waves may occasionally impact harbors, making navigating the harbor channel dangerous.
Precautionary/Preparedness Actions: Large breaking surf, significant shorebreak, and dangerous currents make entering the water very hazardous. Anyone entering the water could face significant injury or death. boaters should be aware of an increased number of surfers and body boarders utilizing the harbor channel to access surfing areas.
Original post here: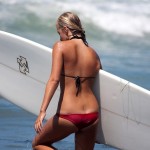 Become A Sponsor!
If you have a product or service that is a good fit for our surf community, we have opportunities for you to sponsor this blog!
Download our media kit now!