Steph is all class…
VIA – DAILY TELEGRAPH

Taylor Auerbach
The Sunday Telegraph
January 24, 2014 3:55PM
STUNNING surfer girl Stephanie Gilmore has hit back at critics who labelled her infamous 2013 television advertising campaign for Roxy "voyeuristic" and sexist – declaring 'I'm no slut'.
In an exclusive interview for this weekend's Sunday Style magazine, the champion athlete opens up about the saucy video which went viral and drew both praise and condemnation from around the world.
The ad shows Ms Gilmore, 25, clad in nothing but underwear, reclining on her bed and taking a steamy shower.
"Roxy has been the No. 1 female surf brand since the beginning," she tells Sunday Style.
"They have always inspired young girls to lead a healthy, confident, adventurous lifestyle. That sexy! So what? I don't think the video was slutty. It's just beautiful.
Do you think people were freaked out by the idea of girl doing different stuff? To be completely honest, I was blown away by the attention it received around the world."
Stephanie Gilmore has been crowned world surfing champion five times and is the official ambassador for Roxy.
For the full interview be sure to check out this weekend's Sunday Style magazine – only with the Sunday Telegraph.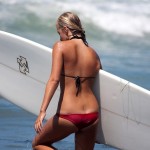 Become A Sponsor!
If you have a product or service that is a good fit for our surf community, we have opportunities for you to sponsor this blog!
Download our media kit now!