VIA – THE JERUSALEM POST
A shark bit a man, 27, as he worked at an offshore fish farm in Ashdod on Sunday.
The man was in deep water some 7 km. off the coast when the shark attacked him, leaving deep wounds from his forearm to his hand.
A colleague pulled him out of the water and he was taken to shore in a boat. Magen David Adom paramedics treated him before he was rushed to Sourasky Medical Center in Tel Aviv.
Kelly Peretz, the paramedic who administered first aid, said that when she saw the victim, he was conscious but suffering from severe pain. At the hospital, he was declared stable with moderate injuries.
Dr. Ruth Yahel, head of the Israel Nature and Parks Authority's marine ecology department, said the incident demonstrates the danger of open-water fish farming, where an unnatural amount of biomass is concentrated and available to apex predators, such as sharks and dolphins. In such cases, man and shark are likely to meet, with the fish typically getting the short end of the stick, she explained.
"Usually, in these cases, the ones who get hurt or suffer are the sharks or the dolphins. In this case it happened to be the other way around," she said.
According to Yahel, it is estimated that approximately 20 species of shark ply the waters off Israel's coast and that all of them are protected from fishermen by Israeli law. But this doesn't stop poachers from fishing for sharks off the southern coastline and selling the meat in the Gaza Strip markets.
Dr. Menachem Goren of the department of zoology at Tel Aviv University said that attacks such as Sunday's are very rare in the eastern Mediterranean and that he could not remember a single case of a shark attack not only off Israel's coast, but also off Lebanon, Greece and Turkey.
He said it is common to see sharks in offshore fish farms, where they come to feed on the fish stalking around the cages, eating leftover fish food.
It makes sense, he said, that the worker was bitten while trying to clear the shark from the fish cage, as was reported in the press.
Though shark sightings in Israel are rare, there have been outstanding tales in recent years, including last February, when two Acre fisherman, pulling into the port, found a 3-meter shark thrashing about in one of their nets. The fish quickly became a short-lived tourist attraction, and pictures of local boys posing with the razor-toothed shark were splashed across the press.
Original post here:
http://www.jpost.com/National-News/26-year-old-man-bitten-by-shark-moderately-hurt-off-Ashdod-Port-327376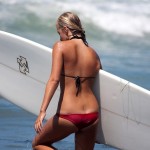 Become A Sponsor!
If you have a product or service that is a good fit for our surf community, we have opportunities for you to sponsor this blog!
Download our media kit now!