sad…
VIA – SANTA CRUZ SENTINEL
Rescuers pull an exhausted rescue swimmer onto the jet ski after they attempted to save a boogie boarder from the cove beneath Lighthouse Point. The boogie boarder was thrown into the cove by a large set of waves on Friday. (Kate Falconer/Sentinel) ( SCS )
By Calvin Men
Santa Cruz Sentinel
Posted:   01/24/2014 08:38:08 PM PST
SANTA CRUZ — A boogie boarder died Friday after being pulled from the rough surf near the Santa Cruz Lighthouse after a set of big waves sent him crashing into the rocks.
About 4:30 p.m., two lifeguards on jet skis went to check on the man, who was on a boogie board wearing fins, said Rob Young, a battalion chief for Santa Cruz Fire.
He was kicking and paddling calmly when rescuers on jet skis checked on him, said Kate Falconer, a witness and former Santa Cruz Sentinel photographer. Yet something didn't seem right, said Falconer, who called 911 to alert authorities that the man might need some help.
A rescue swimmer jumps from Lighthouse Point to rescue a boogie boarder Friday… ( SCS )
"He was hanging between Seal Rock and the point, but at a point where people normally don't hang out," Falconer said.
Despite warnings that the surf was dangerous and he should move, the man, who appeared to be in his 20s or 30s, told rescuers that he was fine and after watching him for several 10 minutes, rescuers left him, Young said.
John F. Hunter, a professional photographer from Capitola, was on the cliff watching the man and said the boogie boarder looked out of his element.
"You take one look at him and he just didn't look like he had experience in heavy surf like that," Hunter said.
Onlookers watch as rough surf pounds the area known as the 'toilet bowl' off the Santa Cruz coast where a boogie boarder suffered critical injuries Friday afternoon. ((John F. Hunter Photography/Contributed))
The man was positioned in front of a large rock and spectators on the cliff called to the man, telling him to move away.
"Everybody was screaming, 'Just get out,'" Hunter said. "It was intense."
The National Weather Service Station in Monterey issued a high surf advisory for the day, predicting swells from 11 to 13 feet.
A boogie boarder suffered life-threatening injuries Friday afternoon when a set of big waves pushed him into the 'toilet bowl' off the Santa Cruz coast. It took two sets of rescue swimmers from Santa Cruz Fire to rescue him. Two of the rescue swimmers were treated for minor injuries. ((John F. Hunter Photography/Contributed))
Because of that advisory, there were rescuers poised in the ocean regularly making contact with people in the water to ensure they were safe, said Josh Coleman, marine safety captain for Santa Cruz Fire.
"It was a dynamic surf, strong currents and incoming tide," he said. "The sun was setting and you had just larger than normal surf."
Not long after rescuers talked to the boogie boarder, a large set of waves came in, Falconer said.
"After the second wave, he got hit really hard," she said. "It took him right into the rocks."
Witnesses flagged down rescuers and said the same man was in distress, with waves pushing him into a rocky area between the rocks and the mainland, known as the toilet bowl, Young said.
"All the currents were converging against the rocks," Young said. "He probably banged into the rocks and into the heavy foam. It's hard to stay afloat in."
Two rescue swimmers were sent in — one coming in from a jet ski and another jumping from the cliff — to pull the man out but couldn't get to him because of the waves, Young said.
The swimmers were overwhelmed by the rough surf and struggled to swim around the rocks themselves, Hunter said.
"They couldn't even get to the guy," Hunter said. "They had to drop their flotation device because it was dragging them into the rocks, too."
The rescue was made difficult by the large swells and 10-foot waves, Young said.
The rescue swimmers, who suffered injuries themselves after swallowing water and being swept up against rocks, suffered from exhaustion and eventually got out themselves, boarded a Santa Cruz Harbor Patrol boat and were taken to Dominican Hospital for treatment, Young said.
A second set of rescue swimmers were sent in and were able to pull out the man, Young said. He was unconscious and suffering from critical injuries, Young said.
Rescuers, including Santa Cruz city lifeguards, brought him to Cowell Beach where he was taken by ambulance to Dominican Hospital, Young said. He later died.
People who are looking to go into the water should be experienced and should take extra caution because of the high surf, Young said.
Earlier in the day, Harbor Patrol rescued a swimmer near Capitola who was carried past the surf line after the rip current pulled the swimmer out. The swimmer was not injured.
Follow Sentinel reporter Calvin Men at Twitter.com/calvinmenatwork
For the original post go here:
http://www.santacruzsentinel.com/santacruz/ci_24990281/santa-cruz-fire-rescues-boogie-boarder-from-rough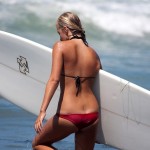 Become A Sponsor!
If you have a product or service that is a good fit for our surf community, we have opportunities for you to sponsor this blog!
Download our media kit now!