VIA WRAL
Mooresville, N.C. — An Iredell County woman is recovering after being bitten by a shark earlier this week while swimming in the ocean at Hilton Head Island in South Carolina.
Kimberly Popp, of Mooresville, said she was in knee-deep water Tuesday afternoon when something hit her foot, according to WBTV.
Moments later, when she lifted her leg out of the water, she saw that a shark had bitten her. Popp said she punched the shark in the nose until it let go of her leg.
"I was yelling. I wanted my kids out of there, because I knew they were right next to me. Was there any more of them, I don't know," she said.
Popp believed the shark was about 5-feet long and said it was as wide as her shoulders. She estimated it was probably bigger than her 6-year-old son who was swimming with her and Popp's 4-year-old daughter.
Popp says a lifeguard wrapped her foot and she was taken to Hilton Head Hospital, where she received 14 stitches to her foot. She is expected to be on crutches for several weeks.
Read more at http://www.wral.com/central-nc-woman-bitten-by-shark-at-hilton-head/13634657/#8T28vaRcRqCZqXpG.99
and…
VIA – THE CANADIAN PRESS
The Canadian Press
Published Thursday, May 8, 2014 8:30PM EDT
Last Updated Saturday, May 10, 2014 1:58PM EDT
The wife of Montreal Alouettes general manager Jim Popp is recovering after being bit by a shark.
Jim Popp's wife Kim shows off injuries suffered in a shark attack. (Image: @BigDaddyMville on Twitter)
Popp posted pictures of his wife, Kim, with a stitched-up foot and punctured ankle after she was attacked by a shark during a vacation at Hilton Head Island, S.C.
"My Super Hero wife Kim, mother of 6, sweet as honey, tougher than steel. Bit by shark in HHI. Odds: 1 in 11.5 million," Popp posted on an unverified Twitter account with the handle @BigDaddyMville.
The Alouettes confirmed the account belongs to Popp and that the shark attack occurred.
Read more: http://montreal.ctvnews.ca/als-gm-jim-popp-posts-photos-of-wife-s-shark-attack-wounds-1.1813286#ixzz31TCnhnu2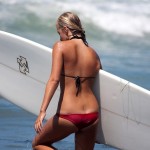 Become A Sponsor!
If you have a product or service that is a good fit for our surf community, we have opportunities for you to sponsor this blog!
Download our media kit now!