VIA – KPBS
Airs Thursday, May 8, 2014 at 8:30 p.m. & Saturday, May 10 at 4:30 p.m. on KPBS TV
Credit: Courtesy of Tim Mantoani Photography
Above: Jeff McCallum, surfboard shaper
SNAPSHOT is a half-hour magazine-style show that takes the KPBS viewer on a journey around the San Diego region, on assignment with professional photographer Tim Mantoani. Tim is famous for his portraits but what he loves more than anything is meeting new and interesting people. Being a professional photographer allows Tim to access a world that most of us rarely get to see. Nearly every day he explores exciting places and interacts with amazing people.
Tim has an eye for telling a story in a single frame of film but there is so much more to every subject than just that memory captured in time. Tim is excited to share his encounters, whether it's interviewing a visionary surf board shaper or crossing the border to Tijuana to experience the unique world of Mexican wrestling. Through Tim's trained eye and engaging personality, we can learn more about the people and places that make the San Diego area so rich with culture.
Jeff McCallum with his dog Kimbo and surfboard.
"Surfboard Shaper – Jeff McCallum" – In this episode, photographer Tim Mantoani photographs local surfboard shaper Jeff McCallum. Jeff is an artist, entrepreneur and modern day visionary in his field.
Tim investigates the rich history of shaping in San Diego that has been passed down from mentor to student, while documenting Jeff's process of shaping and glassing a surfboard as it evolves into a rideable work of art.
Photographer Tim Mantoani
SNAPSHOT is on Facebook and Instagram. Tim Mantoani is on Facebook, and you can follow @TimMantoani on Twitter. Visit mantoani.com to view photos and explore Tim's The NewsFlash blog.
SNAPSHOT is a six-part series, airing Thursdays, May 1 – June 5, 2014, with encore broadcasts on the following Saturdays at 4:30 p.m. on KPBS TV.
Did you miss the first episode? Watch it below now! Episodes of SNAPSHOT will be available for online viewing after each broadcast.
For the videos and more info go here:
http://www.kpbs.org/news/2014/may/06/snapshot-surfboard-shaper-jeff-mccallum/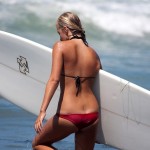 Become A Sponsor!
If you have a product or service that is a good fit for our surf community, we have opportunities for you to sponsor this blog!
Download our media kit now!