Hearts go out to the family…
VIA – HAWAII NEWS NOW
Posted: Nov 13, 2013 4:12 PM PST Updated: Nov 13, 2013 9:36 PM PST
NORTH SHORE, OAHU (HawaiiNewsNow) -Coast Guard crews searched Wednesday night for a surfer who was last seen catching a 20-foot wave on Oahu's North Shore.
Honolulu Police have identified the man as 32-year-old Kirk Passmore, who friends said is an experienced big wave surfer.
The incident happened around 11:20 a.m. in the area of 61-389 Kamehameha Highway in Haleiwa off a surfing spot known as Alligator Rock.
Witnesses said Passmore was offshore when he wiped out on the huge wave. Witnesses said Passmore was then hit by a second wave.
Surfers and rescuers on jet skies immediately went to look for him. Passmore's partially damaged surfboard was located farther down the beach, and Passmore has not been seen since.
Surfer Jamie Sterling was among a pack of surfers who saw him get into trouble.
"He was seen swimming down with his feet up above the surface and we think he broke his ear drum because what happens when you break your ear drum is you have complete loss of balance and you have vertigo," Sterling said. "So you have vertigo and he was swimming the opposite way and another wave came over him.  So he had a two waves hold down.  And after that we didn't see any more of him and we couldn't spot him."
The surfers said Passmore was the only surfer who did not have a floatation vest on in dangerous conditions.
"And they were trying to grab him but they had nothing to hold on to," said Chris Owens, who also searched for Passmore in the water immediately after he went under. "You know like, everybody out there.  See what would have saved him is if he had a float vest on. Everybody wears float vests nowadays."
Sterling described his float vest that many experienced surfers used in high waves.
"I have co2 canisters in here. I can pull them and they blow up like the life vests on the airplane so if we get in trouble, I pull these and they go to the top and they stay inflated throughout my whole session so I have constant buoyancy," Sterling said.
Other surfers, like champion paddle boarder Jamie Mitchell, said if Passmore had been wearing a float vest, he most likely would have made it through.
"Some of the best big wave guys in the world are out there today and they all had their floatation  vests and stuff.  I guess it just goes to show that it can happen to anyone at anytime," Mitchell said.
Passmore's father arrived on the scene at mid afternoon, and was overcome with emotion as he looked out at the portion of the ocean where his son disappeared.
Passmore's business partner, Steve Matthews said they co-own a surf shop at the Waialua Sugar Mill called Third Stone.
Matthews said Passmore moved to the North Shore about two years ago from California but has been surfing here for many years and is experienced at riding big waves in Hawaii, Mexico and elsewhere.
Other friends, along with Passmore's girlfriend, stood at the search command post, hugging each other, crying and watching the large waves as the searched continued all Wednesday afternoon.
Passmore works as a bartender at Banzai Sushi Restaurant in Haleiwa, which co-workers said closed down for the night out of respect for their missing friend.
An MH-65 Dolphin helicopter crew was launched from Air Station Barber's Point at approximately 12 p.m. and the Coast Guard Cutter Galveston Island was diverted at 2 p.m. to assist in search efforts.
The Honolulu Fire Department and lifeguards from Ocean Safety were searching with air, land and ocean assets. The Coast Guard will search throughout the night. Honolulu Fire Department and Ocean Safety suspended their search at sundown and resume searching at first light.
Passmore, 32, is 6'3″ tall and weighs around 185 lbs. He has reddish hair and hazel eyes. He was wearing black board shorts.
Oahu's North Shore is currently under a High Surf Warning. Forecasters said waves are reaching heights of 25 to 35 feet.
Copyright 2013 Hawaii News Now. All rights reserved.
For original post go here:
http://www.hawaiinewsnow.com/story/23962696/surfer-missing-after-catching-20-foot-wave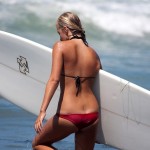 Become A Sponsor!
If you have a product or service that is a good fit for our surf community, we have opportunities for you to sponsor this blog!
Download our media kit now!