VIA – THE BLAZE
9-Year-Old Boy's Shocking Reaction to Shark Attack: 'He Was So Excited'
Labor Day weekend will perhaps always be memorable for nine-year-old Connor Baker, as he was bitten by a shark at St. Augustine Beach, Fla.
While the attack, itself, was startling enough, the young boy's reaction, too, is worth noting.
"He was hilarious, he came out of the water with his hands over his head yelling 'I got bit by a shark.' He was so excited," said Ryan Baker, Conner's father.
Connor was with some friends Sunday south of Ocean Trace Ramp. Around noon, the shark bit into his left left on his calf, First Coast News reported. The injury was reportedly minor, but serious enough that the boy was transported to Flagler hospital and received nine stitches.
"I didn't cry," Connor said.
Connor's father recalled, "He lifted up his leg and you can see the white streaks down where it had bit pretty deep into his leg."
Florida is known to have the highest shark attack activity in the United States, according to the International Shark Attack File database. In 2012, there were 26 people injured by sharks, none of the attacks were fatal. The database said that the last time someone died from a shark attack was 2011.
Original Post here:
http://www.theblaze.com/stories/2013/09/02/9-year-old-boys-shocking-reaction-to-shark-attack-he-was-so-excited/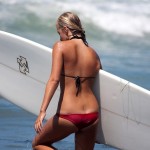 Become A Sponsor!
If you have a product or service that is a good fit for our surf community, we have opportunities for you to sponsor this blog!
Download our media kit now!