VIA – STAR ADVERTISER
Surfboard encounters 'glassy' conditions
By Star-Advertiser staff
POSTED: 09:13 p.m. HST, Sep 01, 2013
LAST UPDATED: 05:02 a.m. HST, Sep 02, 2013
A surfboard punctured the windshield of a car on the H-1 freeway Sunday morning, causing one eastbound lane to be closed for almost 20 minutes.
It wasn't immediately clear where the board came from. There were no injuries to the occupants.
Traffic was stopped on the H-1 eastbound left lane near the Punahou Street overpass about 10:51 a.m.
The lane was reopened at 11:14 a.m.
Courtesy Donard Sonoda
This was the traffic tie-up Sunday morning on the eastbound H-1 freeway near Punahou Street.
Original post:
http://www.staradvertiser.com/news/breaking/20130901_Surfboard_encounters_glassy_conditions.html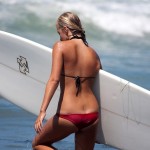 Become A Sponsor!
If you have a product or service that is a good fit for our surf community, we have opportunities for you to sponsor this blog!
Download our media kit now!