VIA – TAMPA BAY TIMES
Terry Tomalin, Times Outdoors/Fitness Editor
Monday, September 30, 2013 7:24pm
Every winter, the world's top surfers gather at Waimea Bay on the North Shore of the Hawaiian Island of Oahu and wait.
Every winter, the world's top surfers gather at Waimea Bay on the North Shore of the Hawaiian Island of Oahu and wait.
If the waves peak at 20 feet or more and can be ridden, then "The Eddie," the world's most prestigious surf contest, gets under way.
The invitation-only event has been held only a handful of times in the past three decades. But still, every year, the best big wave riders come and hang, just in case a far-off winter storm kicks up an epic swell.
But that's not what tonight's season opener of ESPN Films' 30 for 30 Series is about. Hawaiian: The Legend of Eddie Aikau, premiering at 8 p.m., focuses on the man who inspired the contest, a surfer's surfer, the legendary waterman whose premature death gave birth to the catch phrase "Eddie Would Go."
Surf movies and documentaries can be cheesy, at times over-the-top, and often downright nonsensical. But Hawaiian was directed by veteran surf journalist Sam George, one of the few people who could present Aikau's remarkable story in context.
While Florida's Kelly Slater may be the most famous wave rider in the world, no surfer short of Duke Kahanamoku, the Olympic gold medalist who introduced the sport to Australia and America, garners as much respect as Eddie Aikau.
"He was Hawaii personified," George explained. "His sport, unlike any other, has deep cultural connection to the people and place. He was so much more than just another surfer."
A decade before bumper stickers bearing his name began popping up all over the Hawaiian Islands, Aikau was busy defining what it meant to be a "waterman."
Hawaii's North Shore is unforgiving; for decades it was considered too dangerous to surf. But in the late '50s, surfers from the mainland finally rode the massive waves.
In the decade that followed, the bay claimed its share of surfers and swimmers. In 1967, the 21-year-old Aikau became the bay's first permanent lifeguard, and in the months that followed he made as many as 500 solo rescues in the killer surf. The locals knew that if lives were in danger, "Eddie would go."
George, the director, said Aikau earned his legendary status. "People often describe champion surfers as heroes, but while they may be risking their lives, they do it for fun. Eddie was different. Waimea was his bay."
Aikau became the pride of the islands when he paddled out, uninvited, at the Duke Kahanamoku Surfing Championship, which had been off limits to native Hawaiians. Then on Nov. 19, 1967, he solidified his spot in history when he rode a 30-foot wave at Waimea.
Eddie was Hawaii's favorite son when in March 1978 he set sail aboard the Polynesian voyaging canoe Hokule'a, bound for Tahiti. The seas were rough, and less than a day in, the canoe capsized. After a long night adrift, Aikau went for help on his surfboard.
By sheer luck, the crew was rescued that night, but Aikau was never found despite the largest air-sea search in Hawaii's history.
Aikau's stature has grown thanks in part to the contest that bears his name. But George's film, 2013 Tribeca Film Festival selection, may introduce a generation of surfers and sports fans alike to the man whose true legacy is far more enduring.
Program to focus on surfing legend Eddie Aikau 09/30/13 [Last modified: Monday, September 30, 2013 11:35pm]
For the full article go here:
http://www.tampabay.com/sports/outdoors/program-to-focus-on-surfing-legend-eddie-aikau/2144744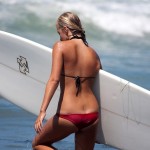 Become A Sponsor!
If you have a product or service that is a good fit for our surf community, we have opportunities for you to sponsor this blog!
Download our media kit now!