VIA – TICO TIMES
Posted: Monday, October 14, 2013 – By Genna Marie Robustelli
Surf instructor Luis Sequiera witnessed the bizarre incident and helped get victims to safety.
Surf instructor Luis Sequeria was teaching a lesson when a 7-foot crocodile showed up and attacked a nearby surfer.
PLAYA TAMARINDO, Guanacaste – Surf instructor Luis Sequeria had just taken his students out into the mild waves of Playa Tamarindo on Sunday when he heard a man scream.
"Auxilio! Auxilio! Help! Help me!"
Then came the voice of a woman. "Somebody, help him! Please!"
Sequeria quickly sent his students – a mother and her 7-year-old daughter – to shore, but held on to one surfboard. He then turned to face the flailing couple, who turned out to be Spainards Adán Riviera and Natalia Latita. He was shocked and horrified by what he saw.
An American crocodile was chasing Riviera. It looked huge, around 7 feet long. In the distance, a smaller crocodile circled ominously.
Good God, Sequeria remembers thinking. What can I do?
"In Tamarindo we don't have lifeguards watching over people," he said. "Sometimes it's up to the locals to step up."
Sequeria advised Díaz to turn and face the croc head on, hoping he might intimidate it. That didn't work.
The croc closed the distance and connected first with its claw, scratching Diaz's left shoulder and leaving several gashes. Then the croc opened its mouth and chomped down. As the jaws shut, Díaz tried to push the crocodile away, and from Sequeira's vantage point, it looked as if the man's middle and index fingertips were bitten clean off.
Sequeira began slamming his surfboard against the water, splashing and making as much noise as possible. "I knew I had to confront it, to intimidate it, and to let it know who was boss," he said.
The crocodile retreated, spooked, and Díaz and Latite headed for shore. But the reptile wasn't finished.
It made a wide turn and headed south – away from the estuary and toward some rocks, where two other people were surfing. When Sequeira realized the creature was making a beeline for a pair of Swiss tourists, he jumped on his surfboard and raced to get between the croc and the surfers. He screamed to them in English, warning them of danger. "Swim away from me! Swim left! Let the current take you in!"
Sequeira says he managed to propel the woman, who was paddling atop her board, to shore, and the man also made it back safely. The moment the woman touched the sand, she began to run, full speed. When she later came back to thank Sequiera, tears were streaming down her face.
Meanwhile, the Spanish couple was still on the beach. Díaz was bleeding and the woman was in hysterics. "She was trembling, sobbing, and had no idea where she was or what she was saying," Sequeira said. "I sent them immediately to the hospital, because who knows what kind of bacteria are in the mouths of crocodiles. It might get infected and he could lose his fingers."
Yamileth Álvarez, owner of Clínica San Gabriel en Villa Real, checked Díaz in. "Luckily it didn't rip off his whole finger," Álvarez said. "Just the nail. … His girlfriend was still in shock, so I didn't ask too many questions."
The Tico Times tried to track down Díaz and Latite at their hostel, Botella de Leche, but less than 24 hours after the attack, they had already checked out.
"The man wanted to stay here and keep surfing, but his girlfriend was very nervous and wanted to leave," receptionist Socorro Urbina said. Urbina didn't know where they were going, but she guessed somewhere away from the beach.
The next day, Sequeira marveled at how fortunate Díaz was to have walked away from the encounter.
"[Diaz] was super, super lucky," he said. "[The crocodile] didn't grasp onto his shoulder, or get his whole hand or arm in its mouth. Crocs don't just bite and let go. They chomp down, hold on, and spin and spin in the water until the prey is ripped to pieces."
Although crocodiles aren't known to attack humans in Costa Rica very often, Sequeria is correct. In 2008, a crocodile attacked 13-year-old Dakota Kilbride, who was surfing at Playa Hermosa on the Central Pacific Coast. The boy's leg was ripped to shreds.  In March of this year, a crocodile lunged at a photographer near the infamous "Crocodile Bridge" near Jacó, but the man walked away unscathed. (See video below.)
The American crocodile's preferred habitat is fresh or slightly salty waters of river mouths and mangroves, and it can grow up to 20 feet long. It is listed as endangered in nearly all parts of North, Central and South America.
Costa Rica's American crocodiles normally stay by the river mouths, but during rainy season the brackish water expands. The animals sometimes get confused and venture farther away from the estuary.
Tamarindo's crocodiles are well fed, with plenty of birds, crabs, fish and insects to feast on. It's unusual for them to be aggressive toward humans. "I think the reason they are so confrontational right now is because October is their egg-laying season," said Rafael Sandoval, manager of Kelly's Surf Shop. "The females don't tolerate people getting too close."
Sequeira said he will inform the Environment Ministry about what happened, so its employees can evaluate whether the crocodile needs to be removed from the area.
For the original post go here:
http://www.ticotimes.net/More-news/News-Briefs/Surfers-survive-attack-by-7-foot-Costa-Rican-crocodile-in-Tamarindo-_Monday-October-14-2013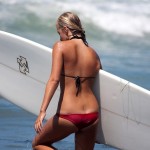 Become A Sponsor!
If you have a product or service that is a good fit for our surf community, we have opportunities for you to sponsor this blog!
Download our media kit now!