VIA – COURIER MAIL
GORGEOUS, tanned and extremely talented, life must be a breeze for surf champ Sally Fitzgibbons.
Exciting, fast paced and fun, yes, but it is anything but easy.
Like Gold Coasters Joel Parkinson, the reigning champion, and Mick Fanning, this year's tour leader and a two-time world champion, Fitzgibbons has shattered the perception of professional surfing as a lifestyle sport.
The 22-year-old was a champion runner who won gold at a junior Olympics and has also represented her state and country at touch footy and soccer and insists the modern surfer is every bit the elite athlete of mainstream sports stars.
"I believe I am because I know the work I do," she says,.
"Surfing as a lifestyle sport has slowly faded away, the will to win from everyone has created a snowball effect and everyone is doing everything they possibly can, those little one per centers.
"And it has transformed into an elite sport."
Fitzgibbons is fresh off a win in France and second place in the season's final event in Portugal to finish the year third on the rankings – following three consecutive runner-up finishes between 2010 and 2012.
She has already turned her focus to the season opener at Snapper Rocks early in the new year where she hopes to kick-start a tilt at the world title.
Once again fitness will be a key weapon.
"I want to be world champion and I've come runner-up, runner-up, runner-up, I'm right there so I just keep looking for new things and training harder," she said.
That means between three and six hours of surfing a day, depending on the quality of the waves, and then an hour or two of gym work and cardio training.
"You utilise the waves when you have them, when the waves are really good the best training for surfing is surfing," she said.
"When there are average days, I still go out, I surf every single day and I'm in the gym every day. I never have a day off."
Her dedication to fitness has opened new doors for her with sponsorship also and she is now the ambassador for Roxy's new outdoor fitness line.
Anyone who's ever ridden waves knows nothing on earth creates such an appetite.
But the standard post-surf smash-up at a bakery is not part of her regime – she eats small meals frequently and keeps things simple and healthy – basic proteins like fish and meat and lots of fruit, salad and vegetables.
She has very little processed food and does not touch alcohol.
Gyms, diets and booze-bans could rub some of the gloss off a job travelling the world surfing but not for Fitzgibbons.
"It is really amazing, I have always been a fast pacer, so this lifestyle comes really naturally to me," she said.
"I've always wanted to work hard, to train every day, to be fit and healthy."
For the full article go here:
http://www.couriermail.com.au/news/queensland/gold-coast-surfer-sally-fitzgibbon-says-the-sport-has-transformed-from-lifestyle-to-elite-fitness-regime/story-fnihsrf2-1226738791446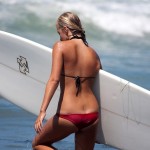 Become A Sponsor!
If you have a product or service that is a good fit for our surf community, we have opportunities for you to sponsor this blog!
Download our media kit now!