VIA – ODT
By Sally Rae on Mon, 27 Jan 2014
When it comes to shaping surfboards, Jeremy Buis admits he likes doing some "outside the square stuff".
A keen surfer, Mr Buis (36) has been shaping and fixing surfboards in Dunedin for the past 20 years. He made his first board when he was 15.
Now, he has added a new dimension to his work – incorporating fern leaves into his designs, and they have been making waves among the surfing community.
He stumbled across the idea, by accident, about two years ago after seeing wet autumn leaves on a board he had left outside awaiting restoration.
He laminated different types of leaves into an old 1950s Kustom board, which ended up "looking rather arty".
The fern turned out to be the best leaf to use, with regards to delaminating and moisture issues, and that had led to him making three full fern boards in the past six months. He was not aware of anyone else making such boards.
He was contacted by a surfing enthusiast in the United States who shaped a lot of boards in the 1960s and whose logo was a cannabis leaf which he would laminate under the glass.
"He said the fern thing was just amazing," Mr Buis said.
Mr Buis started surfing at 13 and it was not long before he was intrigued by the sport. "I had a vision of having a room full of boards, wall-to-wall. Now I don't know what to do with them all," he said.
He has made about 100 boards which, for a "part-time passion", was quite a few. The first five were "horrible" but he had learnt a lot since those very early models.
He has two of the three fern boards. One, nicknamed the Fern Monster, has not yet seen the water. It was "so big and beautiful" that he was reluctant to take it out.
He was now making fern fins and had made a flax stalk core, which was yet to be glassed, and was also drying some woven flax for the core of a fin.
Some customers were keen to use the fins for display purposes so, potentially, they had more than one purpose, he said.
Original source here:
http://www.odt.co.nz/news/business/289367/keen-surfer-takes-ferns-board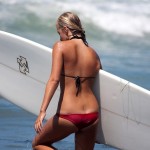 Become A Sponsor!
If you have a product or service that is a good fit for our surf community, we have opportunities for you to sponsor this blog!
Download our media kit now!