VIA – DAILY TELEGRAPH
Surfer Mark Mathews of Maroubra. Source: Supplied
MAROUBRA surfer Mark Mathews surfed in some of Australia's biggest waves in movies featuring legendary US surfer Kelly Slater.
The big wave surfer features in the movies; The Journey and Encoded, filmed in South Australia and Tasmania.
The movies are screening in the Australian Surf Festival at the Ritz Cinema, Randwick, on February 9.
Mathews said it was a privilege to surf alongside Slater.
"It was awesome, he is such a freak," he said.
"Surfing with him would be like playing golf with Tiger Woods or tennis with Roger Federer. You learn so much just watching what he does."
Mathews said surfing the world's biggest swells and barrels was both challenging and thrilling.
"The best thing about being a big wave surfer is the lifestyle," he said.
"I get to travel all around the world to beautiful places and meet amazing people.
"And I never know what's going to happen next.
"I wake up and check global swell charts every morning and then get to go wherever the waves are.
"Dealing with the constant fear gets pretty stressful though."
The show at the Ritz Cinema on February 9 is at 4pm.
Tickets: asmf.net.au
Original post here:
http://www.dailytelegraph.com.au/newslocal/city-east/maroubra-big-wave-surfer-mark-mathews-and-kelly-slater-feature-in-australian-surf-festival-movies/story-fngr8ice-1226809869427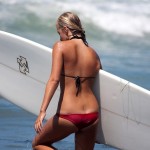 Become A Sponsor!
If you have a product or service that is a good fit for our surf community, we have opportunities for you to sponsor this blog!
Download our media kit now!