VIA – DAILY MAIL UK
Andrew Cotton is tipped to take the crown of world record holder for the biggest wave ever surfed

The 34-year-old caught a wave off the coast of Portugal as the St Jude storm rolled across the Atlantic

The break is expected to be measured at around 80ft when officials make their verification in May

With the current world record standing at 78ft, Mr Cotton is tipped to take the world record holder crown


Father-of-two tells of his journey, chasing his dream to become a full-time professional big wave surfer
By Lizzie Parry
PUBLISHED: 11:43 GMT, 12 January 2014 | UPDATED: 02:27 GMT, 13 January 2014
Andrew Cotton is man on a mission – to surf the world's biggest, most challenging and dangerous waves.
His journey has taken him to the four corners of the earth, placing him in terrifying situations, leaving him breathing many a sigh of relief at near misses survived.
But 2014 could be the year the 34-year-old enters the record books, as he waits for official confirmation that a 80ft monster wave he surfed off the coast of Portugal this October is the biggest conquered to date.
Scroll down for video
Part-time pro surfer Andrew Cotton is tipped to take the world record for the biggest wave surfed after riding this monster off the coast of Portugal in October as the powerful St Jude storm rolled across the Atlantic. Experts say the wave could measure 80ft, two feet higher than the current record
Officials are in the process of verifying the size of the wave, but Mr Cotton will have to wait until May before the wave's height is confirmed
As the St Jude storm rolled across the Atlantic in October, the force of nature whipped up mammoth swells out at sea.

And rather than batten down the hatches, pro surfers from across the world congregated on the beaches of Portugal's Praia do Norte.
Among them and eager to get on his board was part-time pro surfer, plumber and lifeguard, father-of-two Mr Cotton.
Facing such gigantic waves requires surfers to enlist a little extra help to line themselves up to ride the huge expanse of water.
And so Mr Cotton was towed by jet ski to catch the wave, he and others hope could be set to break the world record.
Mr Cotton said: 'People have been saying the wave I caught in October in Portugal is around 80ft.'
The current world record for the world's largest wave ever surfed stands at 78ft.
The 34-year-old part-time pro surfer, plumber and life-guard, said while it would be great to hold the world record it is not why he goes out on his board. He said: 'I love being in the water and my dream is to become a full-time professional big wave surfer. By pushing myself to catch and ride bigger and bigger waves I will hopefully achieve that dream'
The self-employed plumber chose to be his own boss to allow him to head off around the world to chase gigantic waves, at short notice. In October as reports of the St Jude storm broke, he joined professional surfers from across the world in Praia do Norte in Portugal where he caught this monstrous wave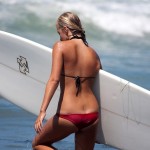 Become A Sponsor!
If you have a product or service that is a good fit for our surf community, we have opportunities for you to sponsor this blog!
Download our media kit now!