VIA – THE AUSTRALIAN
Lucy Ardern
Gold Coast Bulletin
January 14, 2014 1:01AM
Stephanie Gilmore, left, brings fashion to the beach during a recent photo shoot. Picture: Splash News Source: Supplied
BUNNY ears and a fluffy tail appeared to be the only thing missing when Gold Coast surf star Stephanie Gilmore was spotted taking to the waves for a Vogue fashion shoot recently.
Gilmore, 25, who has been the women's professional surfing champion five times, looked like she was one step away from a Playboy Bunny when she suited up on Friday at Bondi Beach.
Under instructions from photographers, Gilmore teamed long, black silk gloves with a series of striking one-pieces.
But in one of the shots, the top of her outfit appeared to slide up, revealing more than intended.
Gilmore, who has been dubbed a Roxy spokesmodel, is open about her love for fashion.
"Don't be afraid to be glamorous," she said recently in an interview.
"I just have fun with it.
"One of my style icons is Rihanna.
"I love that crossover between sport and glamour."
Gilmore last year made headlines when she featured in a controversial marketing campaign by swimwear giant Roxy soon after signing up as sponsor.
She was seen semi-nude, laying on a bed before stripping off a white shirt to shower.
Gilmore wipes out. Picture: Splash Source: Supplied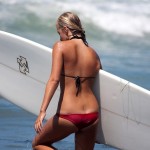 Become A Sponsor!
If you have a product or service that is a good fit for our surf community, we have opportunities for you to sponsor this blog!
Download our media kit now!