VIA -DAILY MAIL UK
The Statham surfer: Action star Jason carves up some waves on his surfboard during his Hawaiian holiday
By Fay Strang
PUBLISHED: 15:34 EST, 7 January 2014 | UPDATED: 05:42 EST, 8 January 2014
He might come across as a British hardman, but it would seem that Jason Statham is just your average surfer dude.
The action star was spotted on a beach in Hawaii, carving up some waves on his surfboard with a smile on his face.
Jason, 46, had left his girlfriend Rosie Huntington-Whiteley for the day so he could line-up along the drift with his pal.
Point Break: Jason Statham goes surfing with a friend during his Hawaiian holiday
The 46-year old looked buff in his wetsuit, filling out the neoprene with his muscular physique.
And it didn't look to be doing too bad a job – despite the waves being less than gnarly – as he stayed upright and looked pretty experienced on the board.
Paddling out on the choppy blue ocean, the actor happily chatted to his pal on the flat while they waited for bigger waves to hit.
Gnarly: Jason holds his own as he navigates his way long the shoulder of the wave
Pretty good: The action star looked rather professional as he took to the water in a wetsuit
Rip curl: Jason lines himself up to ride a big wave coming up just behind him
It's not clear were Jason's 26-year-old girlfriend was, however they were spotted just a few days after Christmas taking a stroll along the beach in Malibu alongside their Daschunds Dolly and Peggy.
The couple, who have been dating for three years,  shook off split rumours earlier this year and seem happier than ever and while they have yet to have children – it seems it could be on the cards in the not so distant future.
The actor, who plays a father in his new film Homefront – opposite Kate Bosworth and James Franco – said how much he enjoyed the paternal role.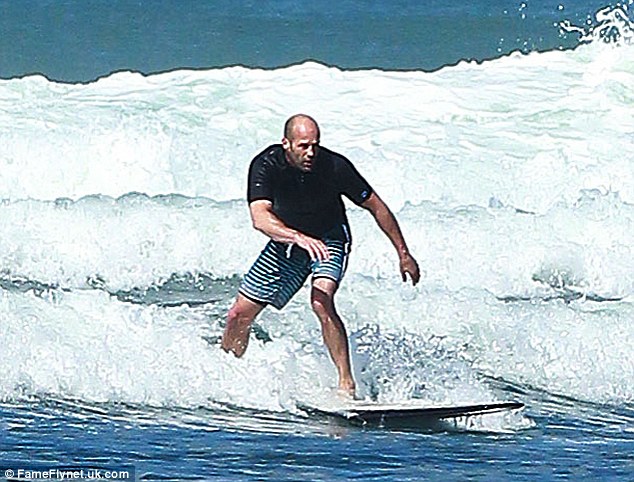 In the zone: Nothing seemed to distract the Homefront star as he navigated his way across the water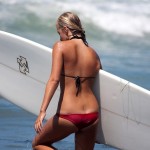 Become A Sponsor!
If you have a product or service that is a good fit for our surf community, we have opportunities for you to sponsor this blog!
Download our media kit now!