Je m'excuse par avance auprès des internautes qui n'ont rien à faire de la polémique stérile sur les bracelets magiques, mais comme 20 personnes par jour arrivent sur ce site en posant la question à Google : « comment reconnaître un vrai Power Balance/EFX d'un faux ? », eu égard aux nombreuses contrefaçons de bracelets magiques à bas prix qui circulent, je vais répondre très clairement à cette interrogation. Peu importe que vous achetiez un vrai ou un faux bracelet magique : ils seront tout aussi efficaces (ou inefficaces plus précisément) l'un que l'autre ! Il n'y a rien dans les bracelets originaux qui pourrait jouer sur votre champ « bio-énergétique » (même le fabricant est incapable d'avancer un semblant d'explication cohérente ! ). En achetant un faux Power Balance, vous risquez par contre de nuire au compte en banque des revendeurs des originaux*.
Après être intervenu dans différents médias cet été pour dénoncer le triple effet buzz, arnaque et placebo de ces bracelets, j'avais décidé d'arrêter d'en parler. Depuis, de nouvelles voix se sont élevées pour dénoncer l'arnaque totale de ces bracelets. Sur M6 dans 100% Mag, Christophe Bernard, directeur de recherches à l'INSERM, décortique le message de la marque sur Internet qui prétend stocker des fréquences dans l'hologramme et les restituer de façon bénéfique au corps humain : « c'est une absurdité: une fréquence, c'est une unité de mesure, c'est comme si on stockait des secondes et qu'on pouvait les restituer à l'envi. C'est complètement idiot et cela ne peut pas exister. »
Des ostéopathes du 64 ont également sorti une vidéo pédagogique très intéressante sur YouTube pour comprendre comment les tests fonctionnent vraiment. Mais le grand public préfèrera-t-il croire ces spécialistes ou des surfeurs comme Vincent Duvignac qui prétendent mieux surfer avec le bracelet… Hum, hum…
Plus d'infos : http://www.m6.fr/emission-100_mag/news-100_mag/363718-bracelet_d_equilibre_miracle_ou_arnaque.html
http://www.osteopathie-64.fr/le-bracelet-power-balance-info-ou-intox
* Surf Prevention rappelle néanmoins que la contrefaçon sous toutes ses formes est condamnable.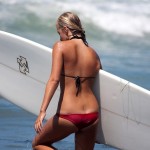 Become A Sponsor!
If you have a product or service that is a good fit for our surf community, we have opportunities for you to sponsor this blog!
Download our media kit now!