Another surfing novelty? Maybe…but certainly a first. The surfers for sustainability over at Localclothes personified "horsepower" with a stunt that would surely piss-off PETA, but also represents their eco-friendly innovations. Leave it to central coast Ca chargers to mash-up the two diversions they do best, while ripping on their patented hemp boards of course.


Home to Surfline's 3rd best surf college (which also has a top ranked rodeo team), the San Luis Obispo county coast is truly a mixed bag.


It looks to us that the Local boys are snapping in at a certain iconic beach where Zebras are known to graze. Saddle up one of those and start making headlines boys.


Here's their story:
"Our home is a rich agricultural area and the cowboys tend to the cattle that roam the rolling hillsides. And, they're pretty good with ropes, and horses, and moving fast and catching big creatures with ropes and horses. Dan, one of the Local team members, thought he might know one of these Cowboys who might be just cool enough to entertain the idea. A phone call and a brief introduction to the concept and we had ourselves a driver and a vehicle. His name is Josh Warren and with a calm, collective demeanor he responded to our unusual inquiry, " Sounds Ahl-right…."
"Theoretically we rationalized to each other- it could work. The idea was simple: have a horse run down the beach and pull a surfer into to the waves. The surfer would hold onto a ski rope and speed into the oncoming swells. Using the "whip" effect, the surfer behind the horse could get enough speed to launch massive airs off small waves in the shore break. This act is called "Tow-ats" and is traditionally done by power of a Jet Ski. But, we wanted to innovate, the old-school style, with real horse power."

Scope surfing's latest manuver. "The Mare-Air"
Way to go Boys! For more info check out localclothes.com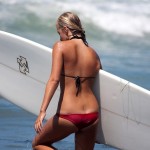 Become A Sponsor!
If you have a product or service that is a good fit for our surf community, we have opportunities for you to sponsor this blog!
Download our media kit now!