We know, we know. We couldn't believe it either.
In case you haven't seen enough pics (as if there's such a thing) of Alana Blanchard's signature bikini-clad derriere snapshots…the Rip Curl "Bikini Zine" Starring Alana Blanchard.

Click the image above to see the full zine
Really ideal timing, as we're sure you've already time traveled through December 2011 in Reef Calendar years.
Of course, I'm sure you noticed the new Rip Curl Spring bikinis, right? In case HR inquires, that's what we were scoping out too.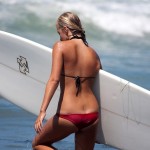 Become A Sponsor!
If you have a product or service that is a good fit for our surf community, we have opportunities for you to sponsor this blog!
Download our media kit now!