VIA – LA WEEKLY
Like most parking lots, the one outside downtown's Los Angeles Cleantech Incubator is flat and fairly vast — a skateboarder's dream of a canvas. David Patrick, 48, looks at ease as he glides along the smooth concrete, drifting his longboard in a gentle left and right zag. "I just love riding around on my own wheels," Patrick says.
That possessive — "my own wheels" — isn't just a sign of ownership. These aren't wheels Patrick purchased; they're ones he invented, and they could revolutionize everything people do on wheels, whether it's cruising on a skateboard or traversing the desert in times of war.
Their appeal becomes clear when, with a quick turn to the left, Patrick finds himself facing a crack in the lot, with tufts of grass and pieces of loose gravel. While this uneven terrain would be enough to make any rider flinch, Patrick tackles the patch, clearing it effortlessly. Stopping the board and picking it up, Patrick announces, "See, that's the benefit of the Shark Wheel."
In motion, Patrick's creations look like rolling orbs, but at rest, with two thick grooves snaking their way around each one and curved edges that waver up and down as they spin, they look more like something that fell off a children's toy than functional wheels. They aren't even round. Not only has Patrick reinvented the wheel — a big no-no in the world of idioms — he has reinvented the wheel so it's modeled after a cube.
Like so many things in his life, Patrick owes the invention to an accident. Make that a series of accidents. He stumbled across this rolling cube/sphere while working on a turbine, which he also accidentally invented. The basic shape of Patrick's turbine is four of the "wheel" shapes put together. Patrick's original idea did not include the groove, but his computer accidentally doubled the wheel — sticking two together — which created the Shark Wheel's signature groove.
If that's not a long enough list of happy accidents, Patrick also accidentally fell into his line of work and accidentally had twins.
"I am the luckiest guy in the world," he says. "I never thought I was making a wheel, or anything like that. I had been using the shape on the turbine for, like, six years and never realized it was a wheel. But, at some point, we dropped it on the ground and realized it rolled. And then I rolled it for years. I showed people 100 times just to show them how freaky it was, like, 'Hey, this thing is a cube and it rolls,' but it meant nothing to me. It wasn't going to be a product. It wasn't going to be anything."
For the original post go here:
http://blogs.laweekly.com/arts/2013/09/shark_wheel_reinventing_the_wheel.php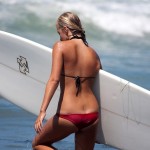 Become A Sponsor!
If you have a product or service that is a good fit for our surf community, we have opportunities for you to sponsor this blog!
Download our media kit now!