Je suis un surfeur goofyfoot et j'aime les belles gauches. J'ai surfé Saint Leu, j'ai surfé Uluwatu…mais la plus belle gauche reste pour moi la rare mais si belle vague de Mundaka. Mais je ne peux m'empêcher de me demander s'il n'existerait pas quelque part sur cette planète une gauche encore plus longue, encore plus tubulaire… Ce joyau existe peut-être au sud de l'Afrique, en Namibie : ce spot mystérieux s'appelle Skeleton Bay. Skeleton Bay est très difficile d'accès mais les différents surf trips filmés que l'on retrouve sur Internet laissent entrevoir une gauche de sable mécanique, qui doit tutoyer la perfection quand toutes les conditions sont réunies. Cory Lopez, Ian Walsh et Alek Parker l'ont eue quasi parfaite et auraient fait en moyenne 20 à 30 secondes de tubes par vague, comme en témoigne cette vidéo Lost.TV. Attention aux attaques de phoques en Namibie néanmoins…
Skeleton Bay ne figure pas encore sur la liste des plus incroyables spots du monde de Valérie Bègue, mais elle vaudrait bien un surf trip en Land Rover… Je vous laisse découvrir le potentiel de cette gauche grâce à quelques vidéos glanées sur Internet.
Le trip de Cheyne Cottrell, David Richards, Alan Van Gysen, et Brendon Bosworth :
Le trip de Adin Jeenes, Chris Leppan, Donovan Zoetmulder, Ettiene Potgieter et Matt Bromley (août 2010):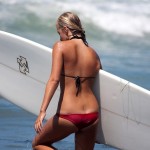 Become A Sponsor!
If you have a product or service that is a good fit for our surf community, we have opportunities for you to sponsor this blog!
Download our media kit now!