Les surfeurs victimes d'une attaque de requin ne sont pas forcément rancuniers. Alors que le réflexe primaire et imbécile est souvent de tuer des requins innocents après une attaque, certains militent pour leur sauvegarde et leur pêche durable et pour éviter notamment le finning qui consiste à trancher les nageoires des squales avant de les remettre à l'eau. C'est le message « Save The Sharks » qu'ont voulu faire passer 9 survivants d'attaques de requins Lundi dernier 13 septembre 2010 à l'ONU pendant une conférence organisée à l'initiative du Pew Environment Group.
Parmi eux, deux surfeurs français : Vincent Motais de Narbonne, ancien Vice-champion de France de bodyboard, qui s'est fait arracher la jambe par un requin bouledogue alors qu'il n'avait que 15 ans sur le spot de Ti'Paris près de la Pointe-du-Diable à Saint-Pierre de La Réunion en 2004. Yann Perras, windsurfeur sarthois, avait lui été attaqué en 2003 au Venezuela et s'était fait arracher le pied. Ce dernier a déclaré : "Cet animal est, comme nous, au sommet de la chaîne alimentaire. Nous ne pouvons en aucun cas accepter des pratiques de pêche qui menacent l'équilibre naturel de l'environnement océanique. »
Les autres victimes venues témoigner étaient : Achmat Hassiem (Afrique du Sud), Paul de Gelder (Australie), James Elliott (Royaume-Uni) et les américans Debbie Salamone (Floride), Chuck Anderson (Alabama), Mike Coots (Hawaii) et Krishna Thompson (New York).
Lire aussi :
– Un surfeur incite au don de sang après une attaque de requin.
– Paul Watson de Sea Shepherd parle du Film Océans.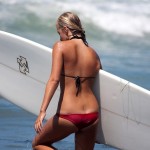 Become A Sponsor!
If you have a product or service that is a good fit for our surf community, we have opportunities for you to sponsor this blog!
Download our media kit now!