VIA — 4RFV UK

Bethany Hamilton To Appear At New Biopic Premiere In Newquay
05 September 2011


The inaugural British Surf Film Festival, which is being held in Newquay, Cornwall on the 22nd and 23rd September, will be hosting the UK red carpet premiere of Soul Surfer.
The major new biographical film from Disney about the life of Bethany Hamilton stars Dennis Quaid, Helen Hunt, and Anna Sophia Robb (as Bethany). The 21-year old Hawaiian-born surfer, who lost her arm after a shark attack in 2003, will herself be in attendance at the Lighthouse Cinema on the opening night of 22nd September.
Aimed at celebrating the essence of surf culture with a selection of old and new surf feature films and documentaries, the first-ever British Surf Film Festival will also showcase the hottest new homegrown surf filmmakers and photographers. Combining an iconic mix of film and lifestyle, along with talks from some of surfing's elite, the British Surf Film Festival will celebrate surfing's heritage and take Newquay on a journey back to its wave-riding roots.
The festival has already amassed a host of sponsors including Offsure surf insurance specialists, Excess Energy Communications, Errant (sponsoring the Homegrown Board Shorts Film Competition, in association with Cornwall Film Festival), the Lighthouse Cinema, Nixon, Wavelength and designer Karl Mackie.
Co-founder of the festival Carla Lamb is delighted to announce that the first-ever festival has been chosen by Disney for the UK launch of Soul Surfer. She commented: "This is such a brilliant coup of our inaugural event. The Festival is set to have such an eclectic mix of all kinds of short and feature-length surf films, however having a nationwide premier, with such an emotive subject, is obviously amazing. The Soul Surfer premier night will be a special charity event, with all proceeds going to the invaluable British 'Surfable' charity to benefit disabled children and their families. Obviously everyone is really looking forward to welcoming Bethany and to seeing the intriguing story of her brave life thus far."
For the full story go here:
http://www.4rfv.co.uk/industrynews.asp?id=131489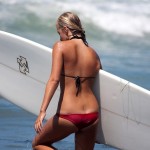 Become A Sponsor!
If you have a product or service that is a good fit for our surf community, we have opportunities for you to sponsor this blog!
Download our media kit now!