WHOA!!!
http://youtu.be/Hnu8yI7VgqQ
VIA – CHRISTIAN POST
738 Pound Bluefin Tuna Caught; World Record? (PHOTO)
March 7, 2012|9:43 am
Nathan Adams has a big fish tale to tell friends! The angler recently caught a 738-pound Pacific bluefin tuna off the coast of New Zealand, which may be a new record.
(Photo: Twitter/RevistaTDJ)
Nathan Adams and his 738-pound bluefin tuna, which may be a world record.
According to reports, Adams was fishing as part of a competition off Houhora, New Zealand. The competition was sponsored by the International Game Fish Association, which is still searching to see if Adams' catch is, in fact, a world record. If approved, it will claim the title of largest catch and bump off the current leader, a 716-pound Pacific tuna.
This is not the first large catch for Adams, even within the same competition. He also took home a 788-pound black marlin, which set a record for the Muriwai Sport Fishing Club.
Adams plans to have the bluefin mounted in his home if he can convince Lisa, his wife. It will "probably [be] in place of a 30-pound snapper-but she says it will be like mounting a sofa," he told reporters.
The Muriwai Fishing Club is based in New Zealand and has approximately 250 members. Adams' other catch, the 788-pound black marlin, will most likely be mounted in the Club's new facilities….
For the full article go here:
http://global.christianpost.com/news/738-pound-bluefin-tuna-caught-world-record-photo-70979/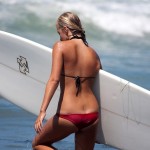 Become A Sponsor!
If you have a product or service that is a good fit for our surf community, we have opportunities for you to sponsor this blog!
Download our media kit now!