VIA – SANTA CRUZ SENTINEL
Only In Santa Cruz T-shirts debut, thanks to 16-year-old entrepreneur Wesley Hobbs
Posted:   03/01/2012 05:16:05 PM PST
Wesley Hobbs, 16, hangs shirts printed with his slogan 'Only in Santa Cruz'… (JON WEIAND/SENTINEL)
SANTA CRUZ – You've probably said or heard someone say: "Only in Santa Cruz." But did you ever consider taking those four words and turning them into a business that would raise money for charity?
Someone has.
He's Wesley Hobbs, and he's just 16.
Danny Keith is carrying the "Only In Santa Cruz" T-shirts and sweatshirts, at his shop, Santa Cruz Skate and Surf, at 912 41st Ave.
Part of the proceeds will go to Grind Out Hunger, a charity founded by Keith in 2003 and a key supporter for Second Harvest Food Bank, where he is chief development and technology officer.
"Danny really inspired him," said Wesley's mother, Lori Hobbs.
"I am trying to help a great cause and start my career as an entrepreneur," Wesley wrote in his marketing appeal to the Sentinel.
Eventually he hopes to have an entire line of merchandise, including posters, hoodies and skateboards.
Keith, 42, who has been honored by the United Way and People Magazine as a community hero, makes the rounds at schools, talking about the growing numbers of people going hungry and asking for support.
Wesley, who is a junior at St. Francis Catholic High School, heard Keith speak at his school three times.
He was moved to get involved as a freshman in the Second Harvest food drives, and began mulling what else he could to help. Being in downtown Santa Cruz is what gave him the idea.
He shared the concept with his theology teacher, John Marheinke.
"He said it was a good idea and go for it," Wesley said.
About six weeks ago, he sent Keith a Facebook message saying he was ready to go ahead with an Only In Santa Cruz business to help fight hunger.
The message got Keith's attention.
"Grind Out Hunger has sparked a lot of interest but nobody has done clothing like this," he said. "It's cause marketing, a new hybrid kind of business."
The two met, and Keith shared his business expertise and promised to carry Only In Santa Cruz merchandise in his shop.
He connected Wesley with Shawn Hatjes, the Food Bank's Grind Out Hunger coordinator, to do the screen printing.
The first order, 50 T-shirts and 25 crewneck sweatshirts, some black, some white, arrived at Santa Cruz Skate and Surf this week. Wesley was there to help unpack and hang them…
MORE YA!: http://www.santacruzsentinel.com/business/ci_20082574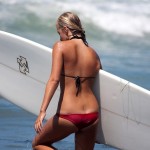 Become A Sponsor!
If you have a product or service that is a good fit for our surf community, we have opportunities for you to sponsor this blog!
Download our media kit now!