VIA – MAUI NEWS


Campbell, Apo each claim two Ole titles
August 14, 2011
The Maui News
LAHAINA – It was another year and different conditions, but it was the same result as Kekaula Campbell and Taryn Apo each captured two divisions at the 18th annual Ole Longboard Classic on Saturday at Launiupoko Beach Park.
The event, which honors 81-year-old surfboard shaper Bob Olson, had 170 entries in 12 divisions in calm waist-to-chest high conditions.
Last year's meet had head-high waves.
Campbell won the open men's division – which was the largest of the event, with 30 surfers – and his 30-39 age group, both for the third straight year. He now has five open men's titles.
Three months ago, Olson let Campbell try a board he actually had made for himself. According to Campbell, after a month he called Olson and said: "How much do I owe you? I've got my footprints all over the board."
It was the first 'Ole' board Campbell had ever owned and the biggest he had ever ridden in competition.
"I had the magic board today, a 10-0 Ole old school," Campbell said. "It turned out to be the perfect board today."
Campbell was locked in a close open men's final with Kazuma Saita and two-time champion Mau Ah Hee. The difference proved to be a six-second back-side nose ride on a waist-high wave.
"It was rough, it was so small out there," Campbell said. "I was able to get a good glide. The board let me get into waves early and up on the nose."
The 33-year-old Kamehameha Schools Maui middle school counselor from Waikapu said his familiarity with Launiupoko was also a factor.
"This is where I learned how to longboard, started it all over here," he said. "I used to be a bodyboarder before that. We would just come down every weekend. Watched Kent (Apo), Chris Vandervoort, Kahekili Kaa, those guys were killing it."
Taryn Apo won her second straight open women's title, but it was her victory in the 19-29 age group that drew the biggest cheers at the awards ceremony. Her age group had 18 men and six women, and she was the only woman in the final. The field included Saita, Ah Hee and another open men's finalist, Alika Apo.
"It was the best final I've ever been in in terms of competitors, boys or girls," Apo said. "The boys were nice. There weren't many waves, so it was a mellow final."
The 26-year-old Baldwin teacher from Wailuku made the best of her three waves with graceful nose rides and stylish drop-knee turns. She was named first on all three judges' sheets.
Apo rode only three waves in the women's final also, but it was enough to edge Bridget Dunnion and Mandee Dayoan. Judges counted the best two waves.
"Pretty much my whole day was like that," Apo said. "I just waited. It pays to be picky and patient, and to pray."
Like Campbell, Apo feels her familiarity with Launiupoko helps her. "I surfed out here a couple of times a week this summer. It's pretty much one of my home breaks. My parents brought me here since I was 6 months old."
Kevin Eide won his third straight 60-and-over title. Rycin Pavao (junior men) and Nathan Moody (50-59) also defended their age-group titles.
Dayoan teamed up with Archie Kalepa to win the tandem division. The other division winners were Nick Nunez (menehune), Travis Baptiste (junior), Summer Macedo (junior women) and Keoki Pfaeltzer (40-49).
_______________
OLE LONGBOARD CLASSIC
Saturday's Results
At Launiupoko Beach Park
Menehune (11 and under)-1. Nick Nunez, 2. Ocean Macedo, 3. Tosh Kalawe, 4. Kamalu Segundo, 5. Summer Macedo, 6. Anthony Nunez.
For the complete story, results and photos, go here:
http://www.mauinews.com/page/content.detail/id/552440/Campbell–Apo-each-claim-two-Ole-titles.html?nav=11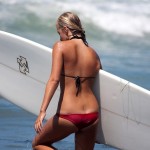 Become A Sponsor!
If you have a product or service that is a good fit for our surf community, we have opportunities for you to sponsor this blog!
Download our media kit now!