VIA – NORTH COUNTY TIMES


SURFING: SoCal girl bests Hawaiians to win O'side surf contest
BY CHRISTOPHER HADORN [email protected] | Posted: Saturday, August 13, 2011 7:45 pm
OCEANSIDE —- Sixteen of the world's top teenage female surfers convened south of the Oceanside Municipal Pier on Saturday to take part in the fourth annual Supergirl Pro Junior surf contest, but only one of them walked away with the flashy pink cape made of silk.
The cape was awarded to Santa Barbara native Lakey Peterson, the winner of Saturday's contest after her score of 15.54 in the finals bested Malia Manuel (12.23), Leila Hurst (9.83) and Nage Melamed (6.96).
Surfers were judged by a combination of factors such as style, consistency, the degree of difficulty of their maneuvers and the duration of their wave ride.
In 25-minute heats, surfers can ride up to a maximum of 15 waves, but only the average of their top two scores make up their qualifying total.
Manuel, Hurst and Melamed all hail from the western Hawaiian island of Kauai, which made for a compelling championship featuring contrasting surfing backgrounds.
"Hawaiians are used to reef breaks and they are way more powerful and generally a lot bigger than this," said Peterson. "I did grow up surfing in these kind of conditions. It probably was a little bit of an advantage."
Manuel finished in second place for the third consecutive year and she also finished runner-up to Peterson in last week's U.S. Open Junior championships in Huntington Beach.
"I'm the bridesmaid," Manuel said jokingly afterward.
During the final round, the frequency of quality waves diminished compared to the quarterfinal and semifinal heats. However, Peterson was able to adjust, which helped her catch better waves than her opponents.
"There were two peaks (the spot where the wave first breaks) out there," said Peterson. "There was one further north and then there was one on the south. The north originally was better for my first two heats. Right before I paddled out (for the finals), I talked to my coach and we both saw it, it kind of shifted down to the south. I kind of had my own solo peak down there, because everyone thought it was still better on the north. It worked out. The lefts (south waves) were way better and I just got a couple of those."
For the full story go here:
http://www.nctimes.com/sports/recreation/article_5de8878f-b374-5921-9c31-25589d9910cc.html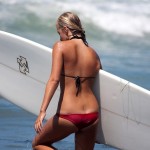 Become A Sponsor!
If you have a product or service that is a good fit for our surf community, we have opportunities for you to sponsor this blog!
Download our media kit now!