VIA – LA TIMES


Tropical Storm Lee heads for land; Katia becomes hurricane again
September 2, 2011 | 1:23 pm
A slow-moving tropical depression off the Gulf Coast strengthened into a tropical storm Friday — meriting the official name of Tropical Storm Lee — and continued its trek toward Louisiana, where it was expected to create tremendous flooding over the weekend.
Katia, meanwhile, regained its status as a hurricane, but there were no coastal warnings or watches in effect, according to the National Weather Service website. It was moving in a west-northwesterly direction, with some strengthening expected over the next two days. The storm wasn't considered a threat, however.
The same could not be said of Lee.
As of Friday morning, the storm — then Tropical Depression 13 — was about 210 miles southwest of the mouth of the Mississippi River and creeping toward the coast at about 2 mph, with the center expected to approach the Louisiana coast over the weekend, the National Hurricane Center reported.
Around midday, sustained winds in the storm were at 40 mph but were expected to strengthen as it continued on its path toward the Gulf Coast, where tropical storm warnings are in effect from Pascagoula, Miss., to the Sabine Pass in Texas, a swath that includes the city of New Orleans.
The storm is expected to dump between 10 to 15 inches of rain on much of the Louisiana, Mississippi and Alabama coastlines, with some areas receiving up to 20 inches, according to the National Weather Service.
As Tropical Storm Lee moved through the Gulf of Mexico, threatening fierce rains and flash floods, oil companies began taking precautions.
Energy is a key industry in the region, and a posting on the website of the Bureau of Ocean Energy Management, Regulation and Enforcement said that offshore oil and gas operators have been evacuating platforms and rigs in the path of the storm.
There have been evacuations from 169 production platforms, about 27% of the 617 manned platforms in the gulf, the agency reported. Production platforms are the fixed structures located offshore from which oil and natural gas are produced.
There have also been reports that people have been evacuated from 16 rigs, about 23% of the 62 rigs operating in the gulf. Rigs are different types of offshore drilling facilities, typically those that can be moved depending on the job, the agency said.
For the full Gulf Coast Surf and Weather Report go here:
http://latimesblogs.latimes.com/nationnow/2011/09/tropical-storm-lee-forms-off-the-gulf-coast.html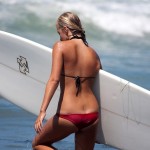 Become A Sponsor!
If you have a product or service that is a good fit for our surf community, we have opportunities for you to sponsor this blog!
Download our media kit now!