VIA – CS MONITOR

Growing Gulf storm could hit as near-hurricane with 20 inches of rain

Tropical depression 13 is expected to become tropical storm Lee and hit the Gulf coast over Labor Day weekend, with warnings stretching from Sabine Pass, Texas, to Pascagoula, Miss.
By Pete Spotts, Staff writer / September 2, 2011
Tropical-storm warnings have been posted along the US Gulf Coast in anticipation of what could become tropical storm Lee before the end of Friday.
As of 11 a.m. Eastern time Friday, forecast offices had issued tropical-storm warnings that stretched from Sabine Pass, Texas to Pascagoula, Miss.
The center of the storm, currently known only as tropical depression 13, is located some 300 miles southwest of Houston and some 224 miles south-southeast of New Orleans.
IN PICTURES: Hurricane Irene
The storm center is expected to close in on the southeastern coast of Louisiana this weekend at near-hurricane strength, according to the latest forecast from the National Hurricane Center in Miami.
It is currently is projected to dump 10 to 15 inches of rain on southern portions of Louisiana, Mississippi, and Alabama, with isolated pockets getting up to 20 inches.
Forecasters say they expect a storm surge of 2 to 4 feet along the coasts affected by the storm's on-shore winds.
The potential for large rainfall totals stems from the significant amounts of moisture feeding the storm and from its glacial pace, forecasters say. The storm system is moving at a lethargic 2 miles an hour. (By contrast, hurricane Katia, currently in the Atlantic, is traveling a bit more smartly along its path at some 15 miles an hour.)
Along the Gulf Coast, emergency managers are gearing up for tropical depression 13.
On Thursday, ExxonMobil and Royal Dutch Shell evacuated some of their offshore platforms in anticipation of the storm's arrival.
If the storm behaves as currently forecast, it will bring badly needed water to a drought-parched portion of the country.
For the full Gulf Coast Surf Report go here:
http://www.csmonitor.com/Science/2011/0902/Growing-Gulf-storm-could-hit-as-near-hurricane-with-20-inches-of-rain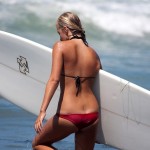 Become A Sponsor!
If you have a product or service that is a good fit for our surf community, we have opportunities for you to sponsor this blog!
Download our media kit now!