VIA – NBC LOS ANGELES


High Surf Slams the Wedge
Surfers may like the ride, but officials say it's extremely dangerous
By Olga Spilewsky and Vikki Vargas
| Friday, Sep 2, 2011 | Updated 11:26 AM PDT
View more videos at: http://nbclosangeles.com.
Big swells greeted surfers and onlookers along the Pacific Coast Highway near Newport Beach's wedge.
"It's just like skiing a good mountain, riding a wave…it's fun," said bodysurfer and biology professor Ted Bandaruk.
High tide struck at 12:01 PM Thursday afternoon and a high surf advisory remains in effect until 5 p.m. Friday for local beaches. A crowd gathered early Friday to watch the big waves.
View more videos at: http://nbclosangeles.com.
Officials cautioned the waves could be dangerous, but surfers took advantage of the giant waves.
"Mixed with the high tide, it's powerful," said surfer Tommy Deliscu. Is it a better ride? "No, just different," he said.
The end-of-summer surf impacted long stretches of beach, both above and below the water.
"Between the trenching, the troughing and the sand build-up, the wave isn't normally what you'd predict," said Newport Beach Fire Department Battalion Chief Jim Turner.
The National Weather Service said 6- to 8-foot waves, with occasional 10-foot sets, could pound the coast through Sunday night.
Lifeguards in Seal Beach said that could be why 24-year-old Jowayne Binford disappeared in Wednesday night's current off the coast of Huntington Beach. Coast Guard officials searched 78 square miles of ocean before calling off the search Thursday at noon.
"He was a good swimmer. He could swim," said his mother, Gail Binford.
Binford's boogie board swept up a football field away.
A MH-65C Dolphin helicopter from Coast Guard Air Station Los Angeles flew four separate flights totaling almost nine hours. Coast Guard Cutter Narwhal and a 45-foot Response Boat from Coast Guard Station Los Angeles-Long Beach were among the search assets that searched through the night Thursday.
For the photos and full Newport Beach Surf Report from The Wedge, go here:
http://www.nbclosangeles.com/news/local/128950723.html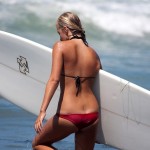 Become A Sponsor!
If you have a product or service that is a good fit for our surf community, we have opportunities for you to sponsor this blog!
Download our media kit now!