VIA – tHE STAR PHOENIX
Big tuna leads to big record
By Jonathan Hamelin, Leader-Post April 14, 2012
For Saskatchewan's Troy Kincaid – rig worker by profession but fisherman by hobby – the waters of Hawaii were recently the scene of an epic struggle between him and a 231-pound bigeye tuna.
After 45 minutes, the 29-year-old was able to reel the fish in. The catch, which came on March 24, broke Hawaii's state record for bigeye tuna – set in 1996 – by three pounds.
"It was a battle," Kincaid said. "I had to hold on to stay inside the boat, because I'm in a little strap that hooks up to the rod, so the fish could probably take you overboard.
"In Hawaii, they basically live off fishing, so it was a pretty big deal."
Kincaid says his "adrenalin kicked in" during the encounter. Mike Furrer, a local who Kincaid was staying with during his trip, was in the boat during the catch. Furrer says it was a learning experience for Kincaid, whose biggest catch before that point was 70 to 80 pounds.
"He's never touched anything that big in his life," said Furrer, 47, whose personal-best catch was a 688-pound blue marlin that took him 12 minutes to reel in.
"You should have seen Troy shaking in the chair. His legs were shaking, he was grabbing onto rails for dear life, because this thing's taking him for a ride. He had a very heavy-duty battle on his hands."
Chuck Johnston, owner of Hawaii Fishing News, says the state has been experiencing a huge number of bigeye tuna. There is still no clear reason as to why this is. He was impressed with the haul.
"These are hard-fighting fish," Johnston said.
According to Kincaid, he was using a lure the size of a 500-millilitre pop bottle. By the time the fish had been reeled in and put onto the boat, he says he was "feeling it."
Since fish of that size aren't exactly suitable to hang up on the mantel, the tuna and marlin were sold. The tuna brought in $3,800 and the marlin sold for $500.
Growing up on a lake in Mainprize, Kincaid has been fishing for most of his life. Until recently, he mostly fished in freshwater. Last year, he started saltwater fishing and went down to Hawaii…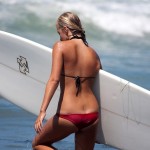 Become A Sponsor!
If you have a product or service that is a good fit for our surf community, we have opportunities for you to sponsor this blog!
Download our media kit now!