VIA DELMARVA NOW
The next queen of the surf world
Michelle Sommers will take over as Eastern Surfing Association's director
1:25 AM, Apr. 14, 2012
Michelle Sommers of Fenwick Island will take over late this spring as Eastern Surfing Association executive director. / SARAH SCHWIND IMAGE
FENWICK ISLAND — Fenwick Island resident Michelle Sommers has achieved a lot surfing-wise for somebody who only took the sport up about a decade ago.
She's already become an instructor in the area, giving lessons to women through Sommers Surf Lessons and, most recently, was named the new executive director of the Eastern Surfing Association.
The ESA is the largest surfing association in the world, with more than 7,000 members. It dedicates itself to amateur surfing competitions and to ensuring a clean shoreline and ocean environment.
"I think of myself as being a passionate and established surfer," Sommers said. "I think it's important to be a surfer if you're going to run a surfing organization."
Sommers' combination of surfing enthusiasm and experience made her a logical fit for the job. She handles sales, marketing and financial management alongside her husband at their two bicycle shops, and was formerly the senior territory business manager for Bristol-Myers Squibb, a biopharmaceutical company.
When she found out the position was opening, she applied and eventually landed it. She begins officially late this spring.
"I know the ESA is big around Delmarva, a lot of my friends compete in it and a lot of kids do, too," Sommers said.
Delmarva's ESA chapter has eight contests scheduled for 2012 from April 21-Sept. 9.
Sommers plans to beef up the ESA's competition program while growing the organization by networking with other organizations to further its involvement in beach access, preservation and other environmental issues. She'd also like to ramp up female involvement in the region, she said.
"My background in business and marketing…"
For the full story on this amazing girl go here:
http://www.delmarvanow.com/article/20120414/WCT01/204140329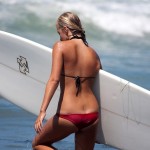 Become A Sponsor!
If you have a product or service that is a good fit for our surf community, we have opportunities for you to sponsor this blog!
Download our media kit now!