So out of touch, what a hot mess…
VIA – DAILY MAIL
New hobby? Surfer girl Lindsay Lohan takes to the waves… with a full face of make-up
By Daily Mail Reporter
Last updated at 6:48 AM on 17th August 2011
It seems even a day hitting the waves can't stop Lindsay Lohan from sporting her usual full face of make-up.
The actress took a break from her partying ways today to try out some surfing in Malibu.
But Lindsay ensured she stood out from the rest of the laid-back surfer types in a bizarre wetsuit and heavy eyeliner and false lashes.
The 25-year-old is well known for her penchant for hot pants, and sported a blue wetsuit with pink piping and cut-off legs to hang ten.
Lindsay had an excuse for her glamorous appearance – the actress was participating in a photoshoot for Love Cat magazine.
While she managed to keep her bronzer, blusher and heavy eye make-up in perfect condition throughout her surf, Lohan emerged with her hair looking rather dishevelled.
She twisted her bleached blonde mane back into a scraggly bun.
Back on the sand in between takes, Lindsay flouted Californian law by lighting up a cigarette.
She pottered around the beach set with a cigarette dangling from her lips while assistants set up the next shot.
Lindsay then changed into a full-length black wetsuit to hit the waves for a second time.
She appeared to struggle with the large surf board as she waded in the water at Surfer's Point.
For more photos and the original article go here:
http://www.dailymail.co.uk/tvshowbiz/article-2026873/Lindsay-Lohan-surfs-Malibu.html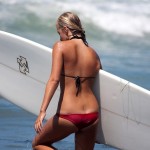 Become A Sponsor!
If you have a product or service that is a good fit for our surf community, we have opportunities for you to sponsor this blog!
Download our media kit now!