VIA – MERC NEWS


Photos of incarcerated Santa Cruz surfer prompt change in jail policy
By Stephen Baxter, Santa Cruz Sentinel
Posted: 03/15/2012 01:59:32 PM PDT
SANTA CRUZ – County Jail leaders this week stopped allowing inmates to distribute pictures of themselves in jail after photos of Santa Cruz surfer Anthony Ruffo showed up on Facebook.
Jim Hart, chief deputy of the Santa Cruz County Jail, said jail photos were never meant to be posted on the Internet. They could compromise the jail's operations, Hart said.
"We want to look at it to see if we want the inside of our facilities posted on the web. I'm not sure if we're going to continue it," Hart said Wednesday.
Correctional officers at the Rountree Detention Center outside Watsonville routinely offer to take photos of inmates to give to inmates' families. The policy is common at county jails around the state, Hart said.
The officers print out the photos and give them to inmates. The inmates can then mail them to friends and relatives or give them to jail visitors.
The correctional officers charge $3 for the pictures. The money goes to programs for inmates, said deputy April Skalland.
Recently, correctional officers were asked to snap at least three pictures of Ruffo with other inmates.
Ruffo, a well-known Santa Cruz surfer, is serving a one-year sentence for a drug-dealing conviction. The 48-year-old former professional surfer was sentenced Feb. 21.
He pleaded no contest to possession of drugs for sale, being under the influence of drugs and being a felon in possession of a stun gun, according to court records.
After his jail term, Ruffo will serve two years in a sheriff's custody program and one year of county probation supervision.
This week, a TV reporter got wind of the lockup photos. He questioned deputies about them. Ruffo did not break any rules, Skalland said Wednesday.
However, someone who received at least three of the photos posted them on Facebook.
They show Ruffo clad in jail clothes with other inmates. They stand in front of a wall apparently outside a jail building.
Hart said he was concerned that other photos might show the inside of the jail. People could get ideas about how to escape, smuggle items or create other problems.
Hart said he and other jail leaders would review the policy.
"We just want to make sure that the security of the facility is not going to be jeopardized," said Hart.
However, Ruffo's notoriety has drawn attention…
For the full article go here:

http://www.mercurynews.com/central-coast/ci_20181968/photos-incarcerated-santa-cruz-surfer-prompt-change-jail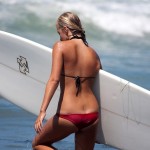 Become A Sponsor!
If you have a product or service that is a good fit for our surf community, we have opportunities for you to sponsor this blog!
Download our media kit now!