VIA- GMA NETWORK
Pinoys in UAE mourn death of kite-surfer
March 16, 2012 1:10pm
Filipinos in the United Arab Emirates (UAE) mourned the death of a kababayan who was based in Dubai but died in a kite-surfing incident while on vacation in the United States.
Condolences poured in for Dante Torres, including on his Facebook profile, according to a report of the news site Khaleej Times on Friday.
Earlier reports said Torres, 28, died in Los Angeles after being pulled unconscious from the ocean off Topanga State.
Reports had stated the Los Angeles County coroner's office pronounced him dead at Santa Monica UCLA Medical Center.
LA Weekly reported that Torres drowned after being tangled in a bed of kelp.
Torres was employed at Orbit Communication (OSN), Dubai.
The Khaleej Times report said Torres' friends knew him to be someone who enjoyed adventure sports. He allegedly participated in a bike ride from Tibet to Nepal last year.
One Facebook user, Vanni Derez wrote: "My heart is heavy. I was ready for your visit next week…
for the full article go here:
http://www.gmanetwork.com/news/story/251654/pinoyabroad/pinoys-in-uae-mourn-death-of-kite-surfer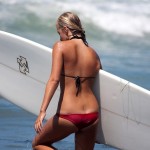 Become A Sponsor!
If you have a product or service that is a good fit for our surf community, we have opportunities for you to sponsor this blog!
Download our media kit now!