VIA – SANTA CRUZ SENTINEL


Harnessing the wind: Kite surfer Kelly Strachan takes aim at the World Tour
Posted: 08/14/2011 01:30:42 AM PDT
Kelly Strachan may be Santa Cruz's least known best hope for a world title. Although the 28-year-old has only been kite surfing for six years, her talent and unique Santa Cruz style recently landed her a wild-card spot on the fledgling Kite Surf Pro World Tour. Strachan will be the only North American woman to compete.
"Despite Kelly's homegrown, laid-back and humble nature, she is probably the most talented female kite surfer in the States right now," said local kite surfing instructor Brendan Richards, Strachan's first teacher and founder of www.SCkitesurfing.com.
KSP is the first professional tour to focus entirely on wave riding, a direction Strachan — and most Santa Cruz kite surfers — excel in. Wave riding is where the rider follows the same line on a wave that a surfer would while also controlling the kite.
After honing her skills in the unpredictable, powerful North Coast surf, Kelly's kiting style is dynamic and surfing-inspired.
Although few other women kite surf in Santa Cruz, Strachan is part of a tight-knit group that spend most windy afternoons flying across the waves at Waddell Beach.
Strachan is eager to challenge herself against a world-class talent pool of women kite surfers and — hopefully — put Santa Cruz women's kite surfing on the map.
"I honestly don't know very much about [the world of pro kite surfing]," Strachan admited. "I've never been to a competition."
After hearing about the open call for homemade film submissions, Strachan and Richards teamed up to create a film showcasing her abilities. Their efforts were rewarded when the KSP released its list of wild cards. Strachan made the cut.
But without a large industry to support up and comers, Strachan must use her own resources to make the three separate trips to compete in the fledgling World Tour. Local kite surfer Josh Nehf also earned a slot on the tour, but does not plan to compete, according to Strachan and Richards.
Backed by Caution Kites, a Santa Cruz kite boarding company, Strachan hopes to raise enough money via a Whole Foods raffle to pay for the trips to each tour stop.
"I was surprised," Strachan said of the outpouring of community support she has already received. "It's happening really fast."
The Whole Foods raffle started Monday and runs through Aug. 28 at 911 Soquel Ave. in Santa Cruz. Prizes include a gift certificate to Costa Noa, a hand-shaped surfboard, and kite surfing lessons from www.SCkitesurfing.com. There are also T-shirts made by eco-friendly Notorious Teaze. Strachan has until late September to meet her fundraising goals.
While professional surfers are supported by a large industry that has crossed over into the mainstream, the kite surfing industry is comparatively tiny.
For the full story go here:
http://www.santacruzsentinel.com/sports/ci_18679129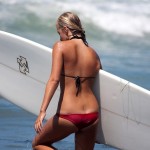 Become A Sponsor!
If you have a product or service that is a good fit for our surf community, we have opportunities for you to sponsor this blog!
Download our media kit now!