VIA – DAILY MAIL UK
Wipe out! Twilight star Robert Pattinson makes a splash as he rides the waves on a paddle board
By
Mike Larkin
PUBLISHED:
15:53 EST, 13 April 2012 |
UPDATED:
16:48 EST, 13 April 2012
One of a vampire's most useful skills is the ability to fly.
And Twilight star Robert Pattinson will surely be wishing he could do this in real life, as he was repeatedly thrown into the water during a paddle-boarding session in Malibu, California yesterday.
The 25-year-old certainly seemed determined to conquer the waves as he doggedly stuck to his task of learning the rudiments of the fun pastime.
Hopefully its not holy water: Twilight star Robert Pattinson had a watery landing as he paddleboarded in Malibu yesterday
No doubt the actor's strong female following will be excited to see him dressed in just his swimming trunks for his exciting seaside adventure.
He wore a generously baggy pair of Adidas shorts, but it he failed to live up to the famous brand's slogan that impossible is nothing.
And after another spectacular dismount an experienced surfer seemed to take pity on him, stopping by to offer him some tips.
If at first you don't succeed: The handsome hunk was determined to give it another go after his embarrassing plunge
Dogged paddle: His legion of female fans will be as impressed by his determination as his fantastic physique
One last try: Battered but unbowed the English thespian soon scrambled back onto his board
The English idol shocked his burgeoning female fan club when he admitted he was jealous of his macho co-star Taylor Lautner's physique.
He said: 'I had never been so worried about that [how I looked] before…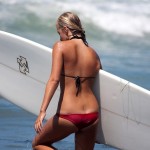 Become A Sponsor!
If you have a product or service that is a good fit for our surf community, we have opportunities for you to sponsor this blog!
Download our media kit now!